140-year old Japanese factory still makes canvas shoes by hand
Years after Chuck Taylor went door-to-door selling his All-Star shoes, Converse is one of the most well-recognized iconic names for footwear. Yet the brand saw struggles including a bankruptcy in 2001, and over the years in face of a changing market the company moved production overseas, and tweaked to not only the design, but material composition.
In our store articles, we showcase items that can be bought from Japan through us, with items that fit the following criteria:
- 100 percent made in Japan
- Have a connection to traditional craftsmanship
- Embody kodawari
- Quintessentially Japanese design
- Not available, or relatively unknown abroad
Moonstar's insistence on keeping much the process analog isn't for hipster cred; for example, the rubber is kneaded by hand because the craftsmen (and women) account for seasonal temperature/humidity changes. The rubber itself isn't a mix of synthetics like some major labels, and Kurume itself is a city home to major rubber industries like Bridgestone tires.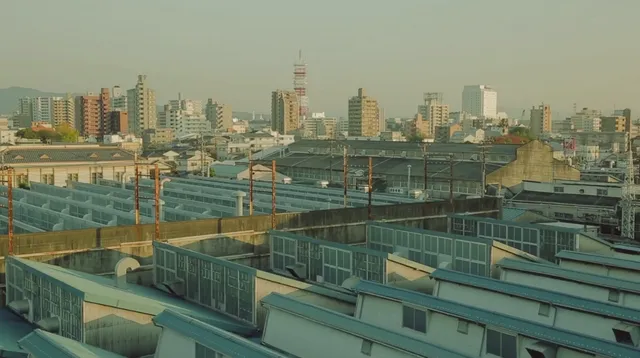 Shot of the factory overlooking the city (Photo: Still from video courtesy of Moonstar)
Having its start in producing tabi—socks with a rubberized sole—everyday wear has been a defining trait of the company from the beginning, continuing with athletic shoes first introduced in 1925. Ubiquitous but hidden in plain sight, most Japanese have worn Moonstar without even realizing it, as the company makes the uwabaki shoes that kids wear in school indoors.
Like an old pair of Chuck Taylors or the '70 series, the outer sole is a single piece of rubber, with the "fine vulcanized" shoes finished by being placed in giant kilns to make the rubber durable and flexible. The design is simple, unpretentious, akin to Muji or Uniqlo, and the classic Moonstars have a distinct sole with a blue gradient that rise up.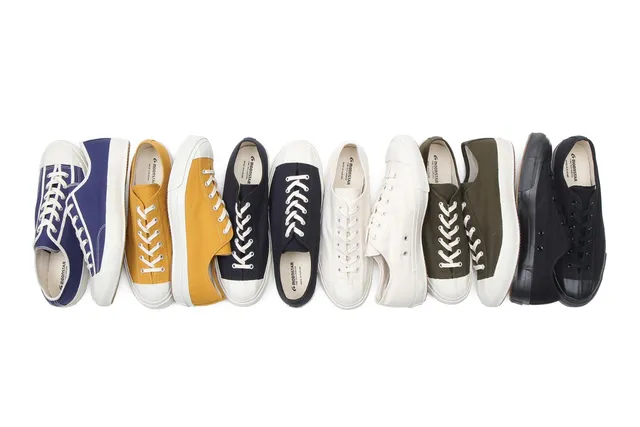 Subtly muted hues differ from traditional Converse colors with its iconic Gym Classics.
The iconic style is the Gym Classic, inspired by an older design from the '60s and coming in a variety of colors, including a mustard hue that's actually pleasant to the eyes. While the price comes at a slight premium—8500 yen or around $80 dollars—they have a devoted following in Japan for their longevity and the durability of the canvas.
Even in Japan the brand is only starting to pick up in popularity, but in recent years the label has seen a string of collaborations, like with HUF, an indie skateboard fashion label based in San Francisco.
Setting its sights on the U.S. market, Moonstar is sellings its Shoes Like Pottery lineup abroad, a step up from the Gym Classics and retailing for $140. Offered in a variety of colors, the most classic is the standard white, which takes on an eggshell-like warm hue.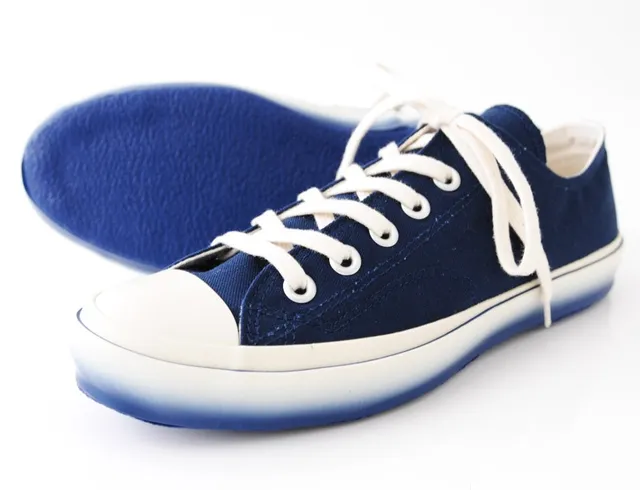 The company's most distinct line is its Low Basket (pictured above) and High Basket G (high top) sneakers, which have the gradient coloring lower strip that either matches the top outer color, or is blue with white canvas. Retail starts at $85.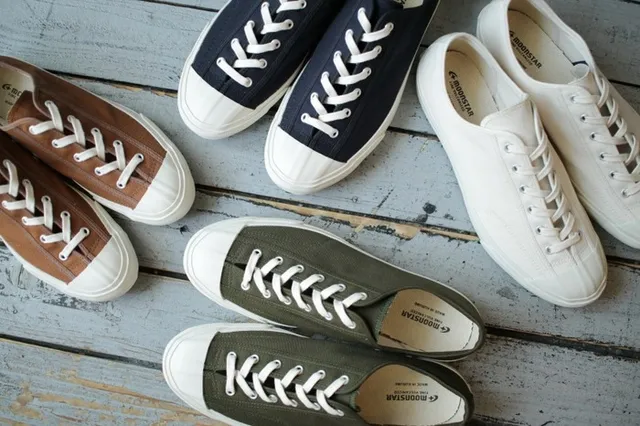 How do they fit? In contrast to Converse these are a bit wider, and the rubber feels surprisingly soft, providing a nice cushion while still being durable enough for everyday use. They do run a tad big, so it's best to go down a size when ordering.
Since we're still setting up our store page, for those interested in purchasing a pair, feel free to contact us or on send a message on our Facebook page.