10 popular spots in Japan's "gateway to the tropics"
Translated by Thomas Evans
Once upon a time, Miyazaki Prefecture was a popular honeymoon destination. Beginning in the 1960s, scores of couples made it their place to visit for a period that spanned several decades. The center of this honeymoon boom was a city in the southern part of the prefecture: Nichinan.
On top of its beautiful coastline and historic architecture, the city has also recently attracted attention as a particularly proactive town in the regional revival campaign. Let's take a look at some spots that deserve your consideration if you're heading down there.
1. Gateway to the tropics: The Nichinan coastline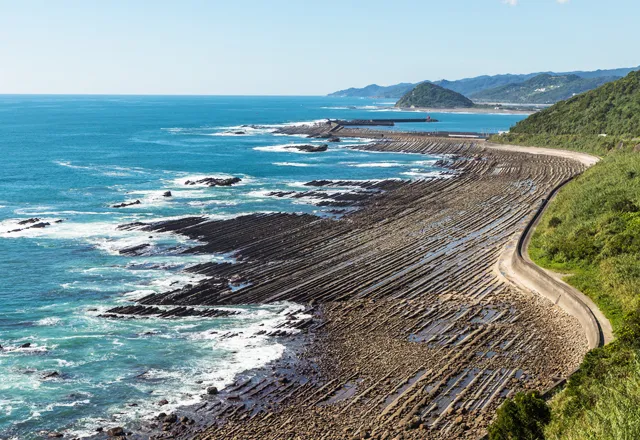 The Nichinan coastline (Nichinan kaigan) is a must-see spot for a sunny day. Drive alongside it for an expansive view of the Pacific Ocean.
A rare rock formation particular to the coastline called the "Ogre's Washboard" (oni no sentakuita) can be found along the beach as well, while the date palms--key actors in setting the tropical atmosphere--bring about a sense of everlasting summer.
Rolling the windows down as you cruise along the highway, you'll be taken away by the sounds of the waves and smell of the saltwater.
2. A key part of the Nichinan economy: The Horikawa Canal
Aburatsu Port Town flourished with tuna and Obi sugi (Obi cedar) before World War II. From the Muromachi period through the Edo period, this fishing harbor represented southern Kyūshū as a strategic position for naval traffic as well as a base for licensed trade with the Ryukyu Kingdom and East Asia. Supporting all this hustle and bustle in Nichinan was the Horikawa Canal (Horikawa Unga). Obi cedar to be used for ships and buildings was transported out of Aburatsu Port Town via the canal.
While use dwindled after World War II, there was a public outcry to maintain the canal for its historic scenic value. Later, in 1992 the canal was used as a location in the film series "Otokowa Tsuraiyo" and a renewed interest in canal preservation and environmental beatification projects emerged.
Now this canal--once important infrastructure for the city's economy -
remains in use today as a favorite place for locals to relax.
3. The Guardian Moai: Sun Messe Nichinan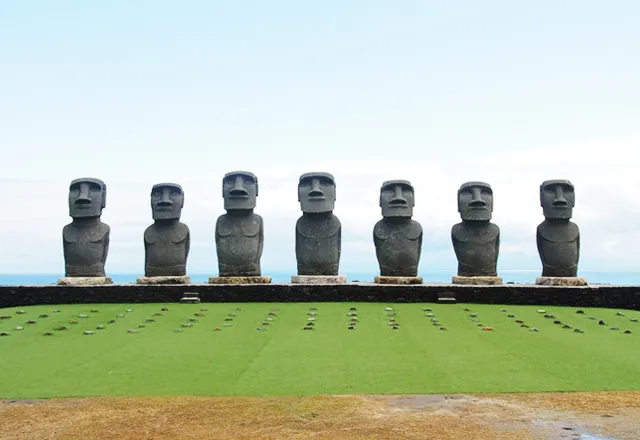 7 huge statues lined up with their backs to the Pacific Ocean.
Go south along the Nichinan coastline and you'll be able to see Sun Messe Nichinan come into view from high ground. Here you can find the very first Moai duplicates in the world made with permission from the Easter Island. But why Moai...?
Easter Island was recognized as a UNESCO World Heritage site in 1995 as Rapa Nui National Park. However, due to old tribal feuding and earthquake damage that continued into the latter half of the 1980s, the island at that time was in ruins. To remedy the situation, the Moai Restoration Committee was founded in Japan. This committee carried out restoration work on-site over the course of roughly 3 years.
Afterwards, in response to a request by the restoration team, the elders association granted permission to erect Moai lookalikes in Nichinan in consideration of the region's scenic similarities to Easter Island.
There's a restaurant and a stone sauna too, so it's a good spot to take a driving break.
4. Thrilling Underwater Sights: Marine Viewer Nango
There's an indescribable pleasure in boat rides--I love having a nice stretch on deck as I feel the ocean breeze. But imagine if that could be extended underwater... that'd be fun enough to even get adults excited. At Sotoura Harbor in Nango, you can catch the Marine Viewer Nango, which offers island tours and underwater sightseeing.
Of course, my recommendation is the underwater sightseeing (suichu kanko). You can enjoy sights you normally wouldn't see, like schools of fish and the ocean floor.
5. Restaurant hopping with history: Obi castle town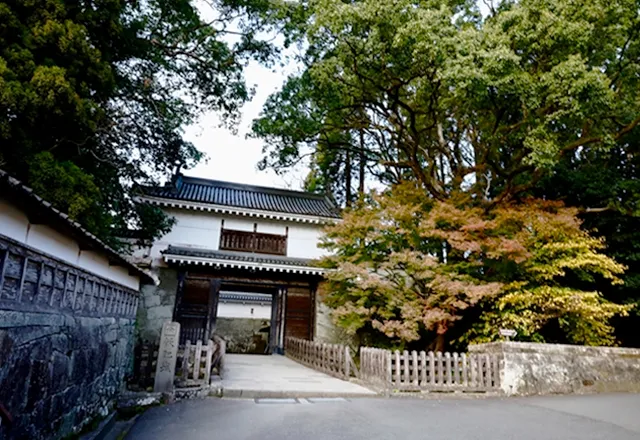 Obi castle town (Obi jokamachi) is a castle town focused around Obi Castle. The castle was erected by the daimyo (feudal lord) Ito, who represented Nichinan during the Sengoku period (1467 - 1603). Here visitors can drop in at restaurants while enjoying areas steeped in the history of the Obi clan.
A variety of charming stores in the castle town area are listed on the "Ayumi-chan Map" that can purchased at the tourist information center. The map comes with five discount coupons, so pick out five stores that interest you to visit. The coupon maps are 700 yen each (and also include admission to the Mercantile Museum [Shoka Shiryokan], the Ihei Yamamoto House [Kyu Yamamoto Ihei-ke], and the Genjiro Takahashi House [Kyu Takahashi Genjiro-ke]), so it's a bargain.
6. Taste fresh seafood: Portside Station Meitsu
If you want to eat katsuo aburi-ju--a Nichinan local specialty--head to Portside Station Meitsu (Minato no Eki Meitsu). Meitsu Port is a major location for pole-caught coastal bonito in the prefecture. There are a few places in the city taking advantage of that to offer katsuo aburi-ju, but here it's freshest and tastiest. Hours of operation are from 10:30am to 3:00pm. Drop in for lunch when you're in town.
You also might want to try the ise-ebi (spiny lobster) special or the new Nichinan type of horse mackerel called bibi-aji in the limited menu.
7. Nankoku's all about the ocean: Futo Beach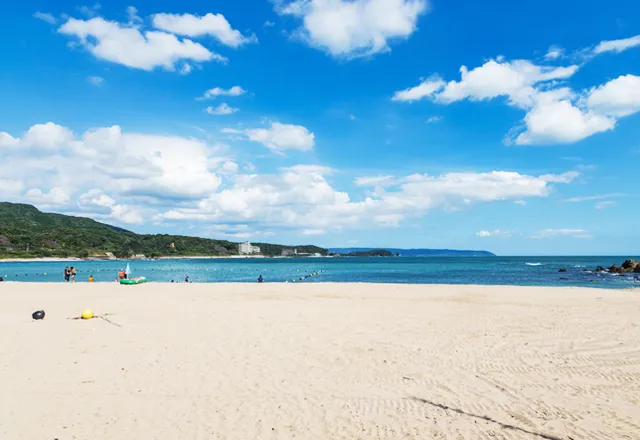 Miyazaki prefecture has a lot of beautiful beaches, and Futo Beach is among them.
Futo beach is about 30 minutes by car from the scenic view of the Pacific Ocean at Horikiri Pass. It can be easily identified by the marine pools cordoned off with strings of rectangular buoys. Not only is it a selection in the Japanese government's "100 Best Swimming Beaches" (kaisuiyokujo hyakusen) list, it also appeared in the Ministry of the Environment's 2011 list of "Swimming Beaches with Particularly High Water Quality."
Washingtonia palms line the perimeter of the sandy beach, creating a quintessential Nankoku vibe.
8. A rare moss paradise: Inohae Valley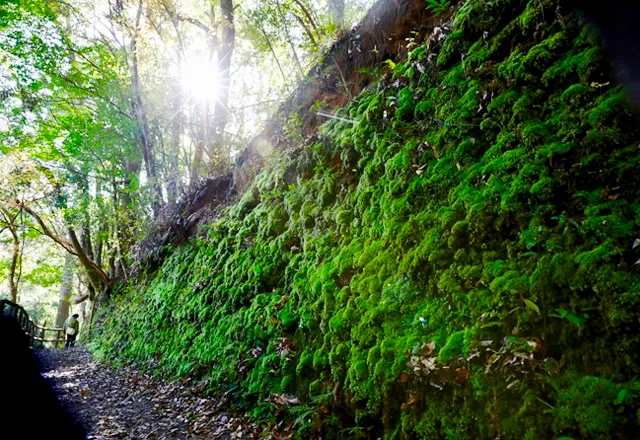 Inohae Valley: a gallery of mosses.
There are supposedly about 1,800 species of moss worldwide. As many as 250 of them can be found in the Inohae Valley region alone. This area is dotted with around 20 waterfall clusters centered around the "Fivefold Falls" (Itsue no Taki), which apparently create a stable humidity and temperature ideal for moss growth.
While you will need a car to get here, the forest therapy benefits make this a perfect destination for anyone looking to unwind and relieve some of their everyday stress and fatigue.
9. A regular station becomes... Carp Station? Aburatsu station
Leave the shopping district, and a bright red station comes into view. In February of 2018, Japan's first Carp Station--at Aburatsu--was completed. Nichinan City has been used as a campground area for the Hiroshima Toyo Carp since 1963. There's a strong local sentiment that "the Carps don't just belong to Hiroshima!" Carp fans in Nichinan got so riled up over the two consecutive Central League pennants in 2016 and 2017 that they built the station as a way of showing their dedication and support.
A lot of Nichinan is only accessible by car, but definitely try visiting Aburatsu station on the train.
10. Your fortune is in your hands. Udo-jingū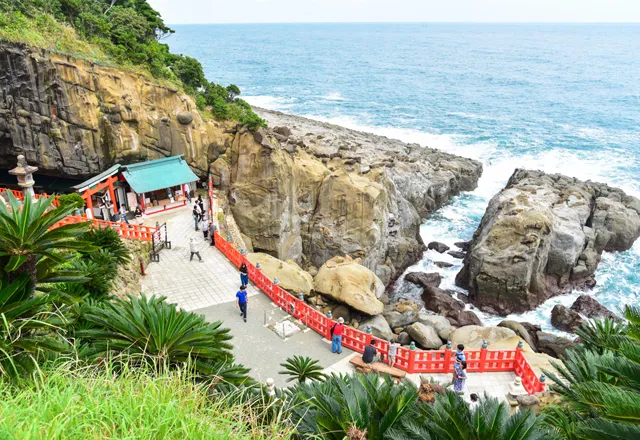 Udo-jingu is built on an outcropping that juts into the Pacific Ocean called Udo Cape (Udo Hanasaki). Here, a bright vermillion Shinto sanctuary (go-honden) lies inside a natural cave carved out by the waves.
A lot of visitors can be seen trying their hand at undama. Undama (luck stones) about the size of a five-yen coin are thrown at a squarish depression in a crag in the ocean referred to as a kameishi (turtle rock). Given the size of the depression and the distance to the rock, the level of difficulty is pretty high. However, if you manage to score a hit, maybe you'll find that you earned yourself some luck.
As a place for people to pray for marital bliss and easy childbirth--as well as a wedding location--this is one of Nichinan's most popular destinations.
Special thanks to Nichinan City