Hooked on a fisherman's meal at a bonito angler's district
Eating bonito isn't commonplace stateside, except for maybe the flakes used as a garnish. In Japan it's not uncommon to have the fish seared or raw, and is enjoyed for its thick, flavorful taste that's like a combination of mackerel and tuna.
But the angler-caught wild bonito I had in Nichinan at Suzuno inn was different.
Known as a fisherman's meal, the cuts are thin as opposed to thick, is immersed in a special soy-based sauce, and also comes in form of ochazuke—a bowl of rice steeped in tea. A staple at the inn/restaurant, it cost 1200 yen (roughly $11).
Bottomless white rice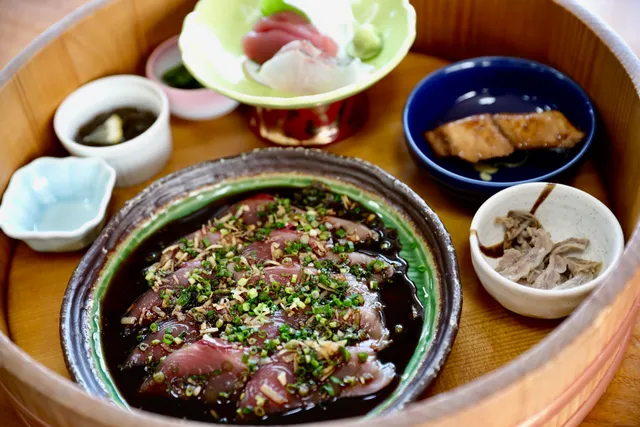 Served in a circular wooden pail, it comes with sashimi slices as well as tuna gonguri (stomach).
The bonito itself is marinated in a sweet/spicy sauce of green onions and ginger, which tastes great when poured atop the rice (which has free refills). Due to the winter season striped bonito was used, as explained by store owner Ando Suzuki.
"From December to January oceanic bonito enter the off-season, but striped bonito can be caught along the shore, and it's peak season until March or April, with a nice layer of fat atop the meat," said Suzuki. "Because it spoils quick, the fish is only really popular locally."
The taste is exquisite yet the shelf life is short, and isn't caught in great qualities, which is why striped bonito doesn't appear in most markets. Growing to a couple feet, it's characterized by a strong umami flavor and soft flesh.
I placed the bonito atop rice to make a rice bowl and had seconds.
Sauce one of the highlights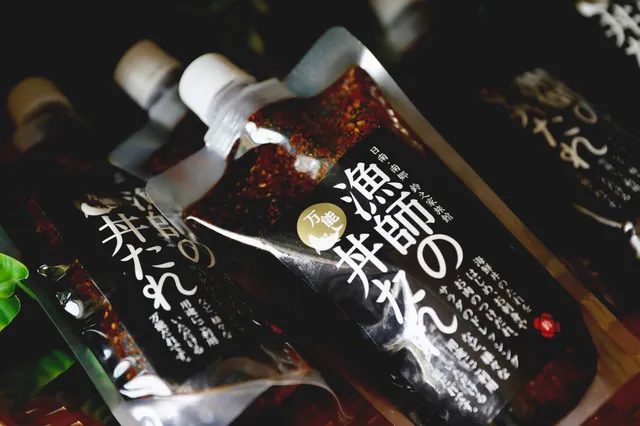 Aside from the fish, the sauce is amazing—using locally made soy sauce as the base, it's combined with sugar, sake and sesame seeds. Called "a fisherman's rice bowl sauce," it's satisfying to finish the meal off as ochazuke (aforementioned tea-immersed rice bowl), with the sauce acting as a sort of soup base.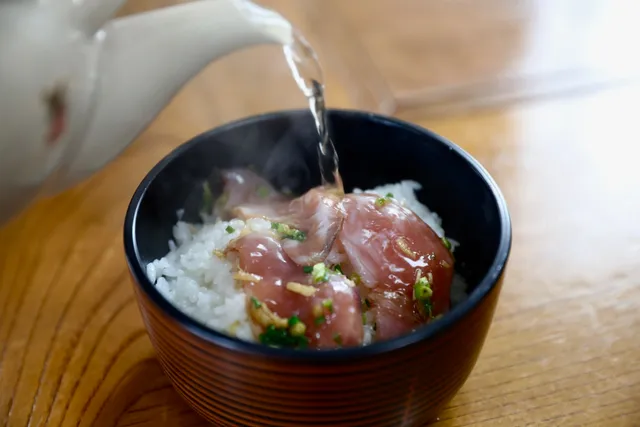 Here the soup is made both with bonito and steeped kombu kelp, and the end result is a smooth-tasting finale to cap off a wonderful meal.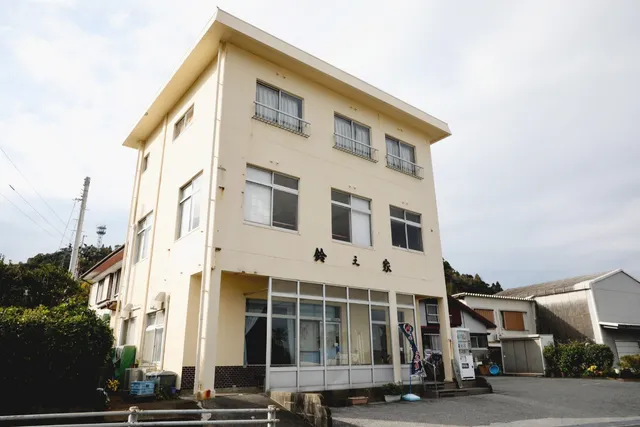 Sitting in front of Meitsu harbor, it's a popular spot that sometimes forms lines at peak hours, but is worth the wait.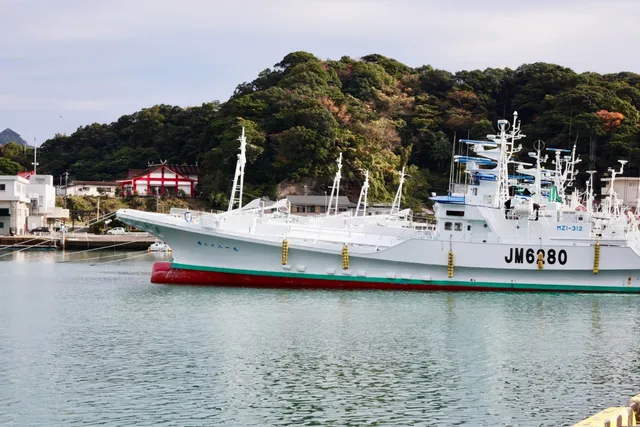 While it's a Japanese-style ryokan inn, you can casually drop in during lunch hours, and other well-liked entries include Ise shrimp meal (seasonal pricing), sashimi meal (980 yen), and seafood rice bowl (1620 yen).
Suzunoya Ryokan
Address: 4898 Nangocho Nakamuraotsu, Nichinan, Miyazaki 889-3204
Phone: 0987-64-0015
Hours: 11:30am - 1:30pm (lunch); 6:00pm - 8:00pm (reservations needed); closed on 2nd and 4th Wednesdays
Special thanks to Nichinan City