Man drops out of college, now run his own strawberry farm at 25
When thinking of farmers, typically you'd imagine someone older, weathered from long days spent baking in the sun, and with a stiff, salt-and-pepper stubble. Not the young, 25-year-old couple pictured above—likely the youngest strawberry farmers in Japan.
Having moved to Miyazaki's Nichinan city, they now run the berry farm called Kuraunfamu, the Japanese spelling for "Clown Farm." Their ideas also match their mold-breaking image, and within the first year of operating they started advance sales of their produce via crowdfunding, in efforts of trying a new business model.
Having been covered by various Japanese media, they were always people I wanted to talk to in person, and while covering Nichinan on assignment I finally had opportunity. So I jumped on it.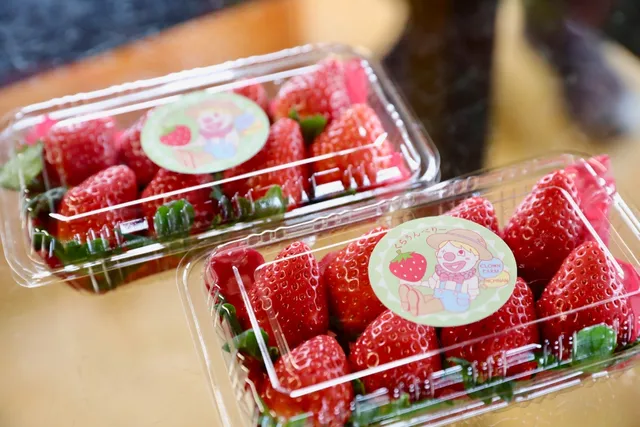 "I've always admired failure."
Born in 1992, Yasunori Watanabe (who goes by the nickname "Taipi") started his life as a strawberry farmer at 23, and had always admired the rural way of life, even as a student.
"In terms of chronological progression it went like, wanting to live in the rural town of Kitago, to wanting to do farming, to wanting to grow strawberries—so strawberries weren't a top priority initially," said Watanabe. "When I was a junior in college and traveling around Kyushu on bicycle, I stumbled upon Kitago (a smaller town in the northern part of Nichinan), and met Minami-san, who would become my mentor. At the time I was the head a farming club at school, and was searching for a place that could become my project."
From exploring the idea to signing on was quick, and half a year later he brought 50 volunteers to do a farm-stay.
"That went on for four years. And as I was doing it, there came more opportunities to get connected with locals as well as government officials. I then realized I wanted to work alongside them, and come to Kitago," said Watanabe.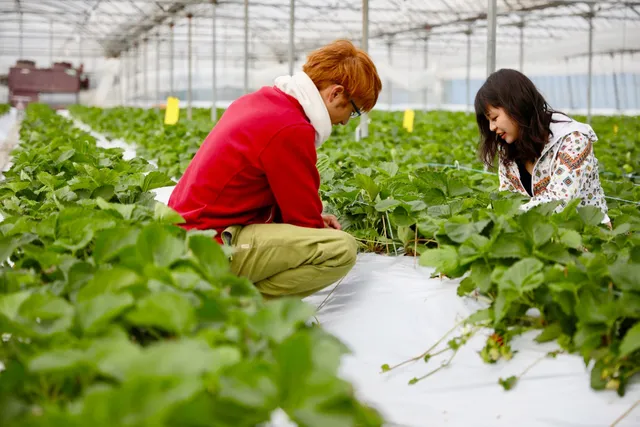 But Watanabe wasn't a native to the area, nor did he have any career experience. I wondered if he was anxious of the idea.
"I like people with a dark past, or a history of failure," said Watanabe with a light-hearted laugh. "Wondering if I can make it, if I'd grow despondent if I fail… I was glum. If anything, I had continually failed until then. As a student I enjoyed being a coordinator of sorts, but in the back of my mind I felt like it wasn't me. And when caught between becoming a coordinator or farmer, I figured I could always go back to the former if things didn't work out."
Yet he decided to drop out of college.
"Previously when I was allowed into a rice field in Chiba prefecture, I saw that 'organically grown' was not all the same. That the fields were a canvas that changed depending on the farmer's philosophy. A farmer then is an artist that paints. That idea seemed so freaking cool."
Creating 100 livelihoods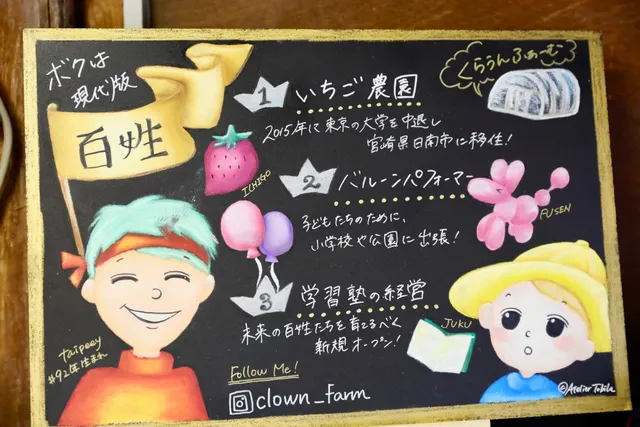 "I'm a modern farmer," reads the sign above--but what's most interesting is the word he uses for farmer. Normally it's "nouka," but here he uses the word "hyakusho," which literally translates as "a hundred names." Hyakusho's meaning changed over the years, and used to point to people of all classes as the emperor's cherished treasure, or "Oomitakara." It became associated with farmers during the Edo period, but took on a derogatory nuance of "peasant" and is taboo to use.

Although labeled as a "modern farmer," the couple have many other interests and passions. When not on the farm they enjoy plate spinning or making balloon animals for kids and the elderly, and also run their own cram school.
"It's called a cram school, but I think it's just me praising students," Watanabe said again with a laugh. "In this small town there's only a single class per grade level, of around 20-30 people. And the academic pecking order then gets set from a young age. And once the school, parents and kids think you're not smart, that stigma sticks throughout the years. But when students start achieving from their own strengths and are encouraged along the way, they get better and better. The parents love it too. Oh, and I guess I still sell strawberries, too."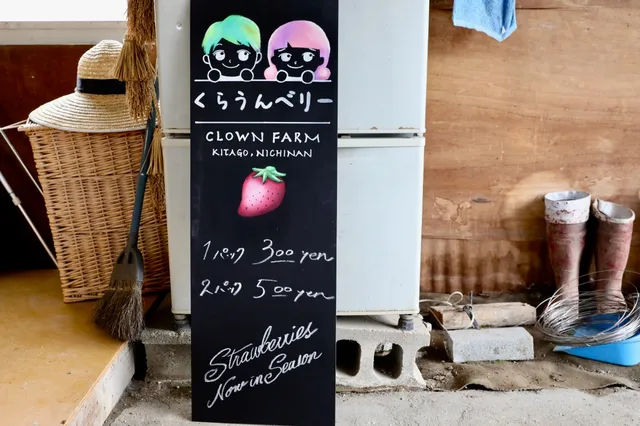 This sign was created by his wife Akane, who's also a professional chalk artist. His wife runs a blog of 4-panel comics called "Selling my lifestyle, piece-by-piece," which is updated weekly covering everything from her moving to Kitago to her whirlwind marriage proposal.
"Do what everyone isn't doing."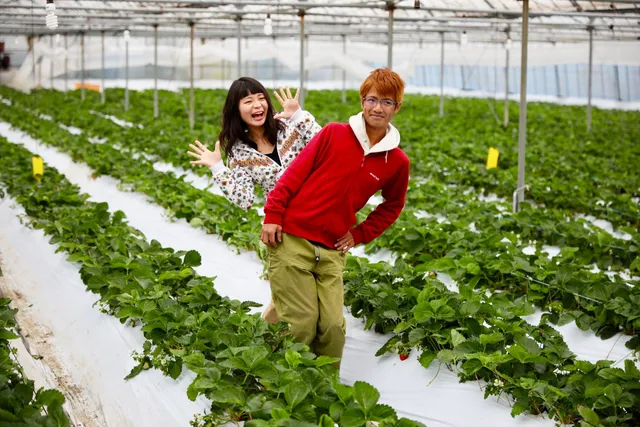 "The thinking is to 'make what's doesn't exist.' That's true of performing—and with strawberries, that means trying to make variants that other farmers aren't. For the cram school, it's about making below-average students average (typically cram schools are more for those wanting to excel). Challenging yourself to do what's necessary, to subsist with 100 livelihoods—that'd be a good thing."
100 livelihoods is a play on the Japanese word for hyakusho, literally translated as "a hundred names." But with the many trials and adventures, I felt "hyakusho" was a term of endearment, signifying the couple's out-of-the-box resilience.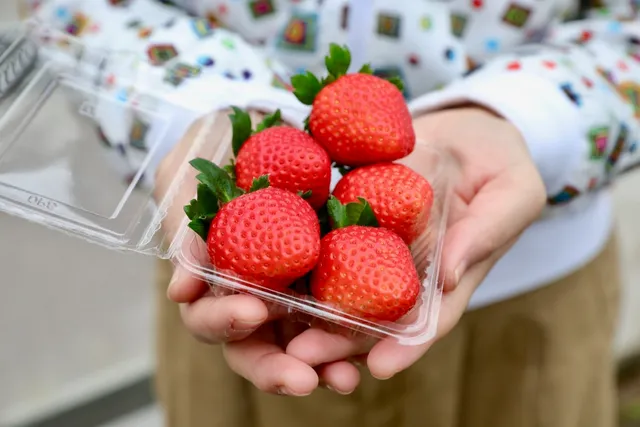 Address:625-1 Gonoharaotsu, Kitagocho, Nichinan City, Miyazaki
Phone:090-9955-8388
Email:info@clown-farm.com