The Shinjuku bookstore where employees are all club hosts
There are over 12,000 bookstores in Japan according to the Bunka News and Shinbunka, a drop of nearly 50 percent since the start of the 21th century. To adapt to the changing marketplace shifting towards e-commerce, many now offer other services, like serving drinks while reading, or even letting you sleep over in a comfortable bed.

But there's only one bookstores that sells love, through workers that are club hosts.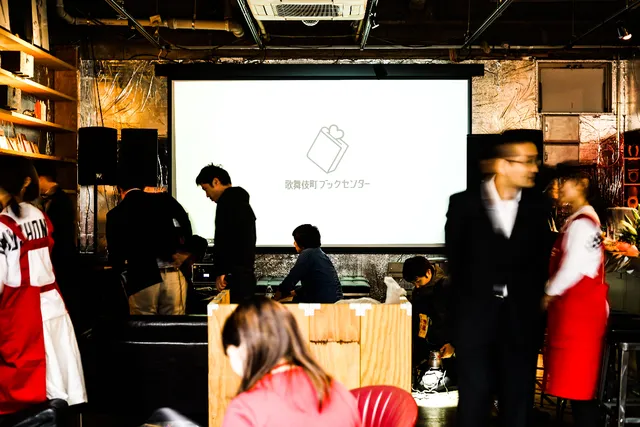 Or at least, books about love. The Kabukicho Book Center opened in October of last year in Shinjuku, the heart of host club bars. The bookstore is open for anyone, and there are no expensive drink charges as in real host clubs.
It's a fitting theme and setting. Club hosts sell their attention, serving pricey champagne, cocktails and whiskey as they flirtatiously talk with their patrons. Women who find their favorite hosts keep going back to them to seek good times and (the illusion of) romance. Although they know the interactions are not for real, but business, there's a certain security knowing they always have a doting, attractive person at their call, even if there's a steep price to be paid.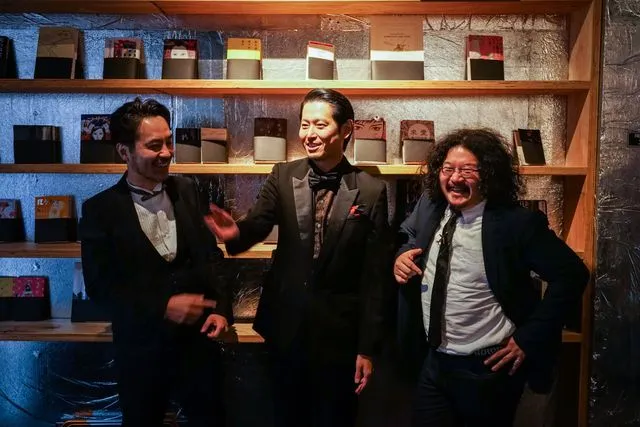 While many men flock to the business in hopes of striking it rich, it's hard work. Heavily commission-based, the hosts need a consistent stream clients, or they risk even having negative pay. Those that succeed only do so because of their honed ability to captivate and swoon their clients, and good looks alone won't carry them through the night. In that sense there's an expertise to being a club host, in knowing how to engage and delight, and Kabukicho Book Center draws on that as a selling point.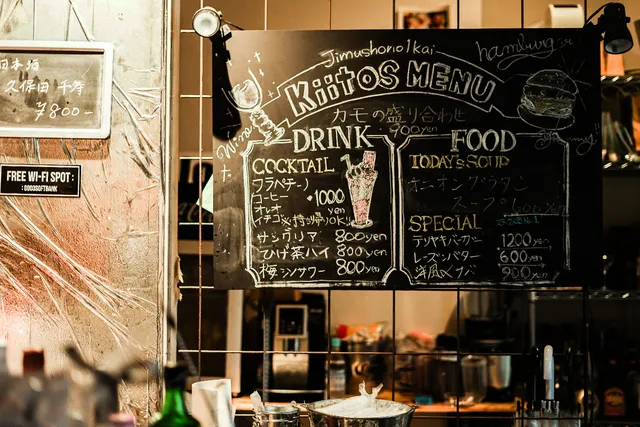 Find the books you need, not want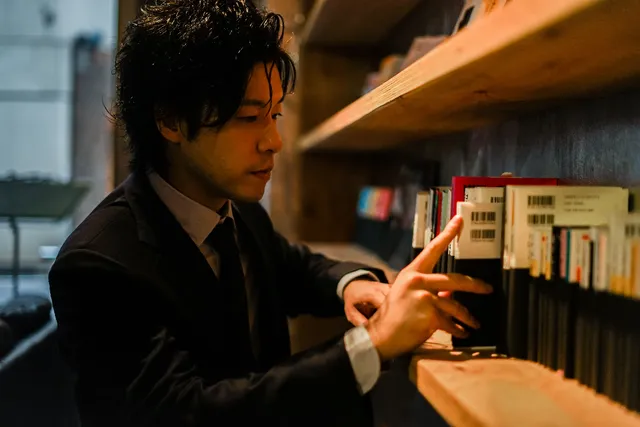 Unlike other bookstores, they will listen to you and suggest books that may give you a hint to solve the relational problems you have, and without expensive alcohol charges.
Say you're in love with a married man, you see it's not going anywhere but don't know what to do to get away from the intense feeling. The staff may offer you a book introducing a protagonist who's in your shoes, or a book that has a different point of view in terms of love.
What's more, you are welcome to talk about more specific relationship issues. Hosts are professional about love and romance, so they will listen and give you some useful advice as though they were your real-life mentor.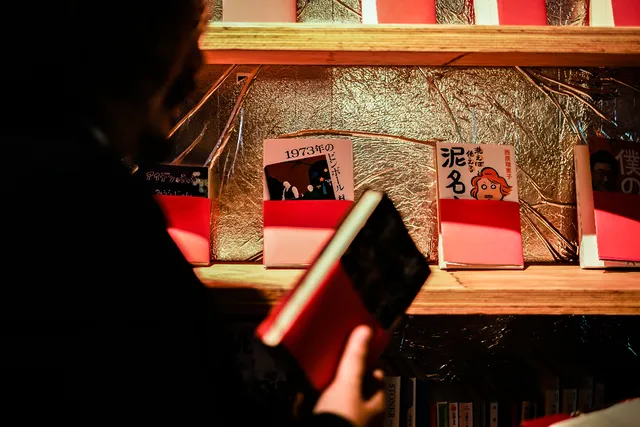 Exploring 3 types of LOVE
In contrast to the chain bookstores on the major streets, this one it stands out with elaborate murals on the front wall. The atmosphere of the place is welcoming with no front door. You can hop in without hesitation. The first thing that catches your eye when you enter is the bookshelves, categorized into three types of love: black, red and pink.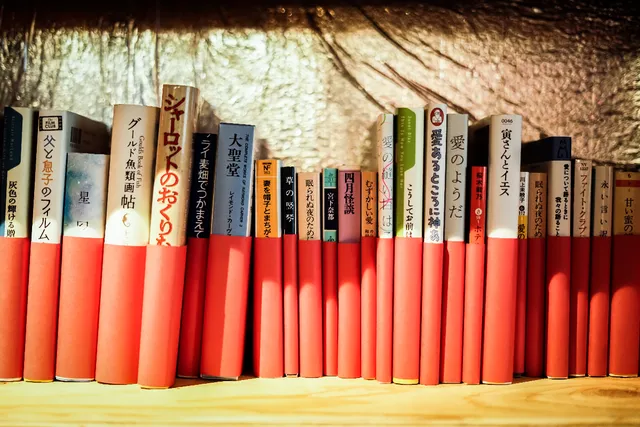 According to one of the staff and active host, Rintaro, black-love categorized books tend to be about ugly and complicated relationships. "You'll also find philosophy books about eros and love," says Rintaro.
But for beginners of Japanese literature, 'Gekijyo'' by an Akutagawa prize awarded comedian and 'Hard-Boiled Wonderland And the End of the Word' by Haruki Murakami may be a good choice.
The red-love bookshelf offers passionate and platonic themed stories ─ not necessarily romantic. For example, 'The Catcher in the Rye' is also located in this section. The word 'love' may remind you of romance, especially if you hear it in Kabukicho, but in the store the meaning of love varies from narcissism to materialism.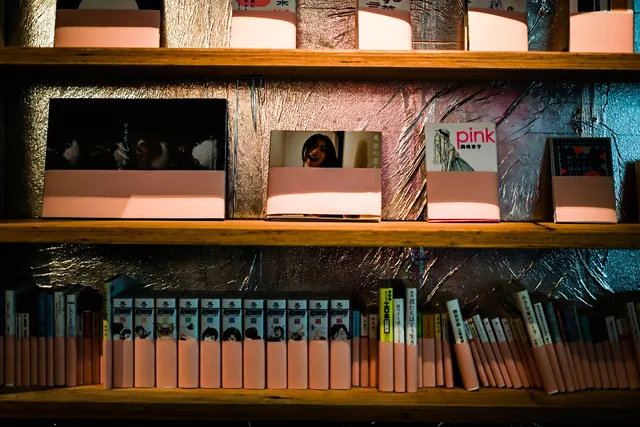 If you are not much interested in novels. the pink-love bookshelf is the one for you, containing more photo books and comic books than the other two.
Confused which one to choose? Rintaro says, "once you start reading, you may find it different to what you expected, so don't take the categories too seriously."
So don't think too much, take a book, and have a seat in a cozy sofa with a cup of coffee. In a busy neighborhood known as "an area that never sleeps," there's an odd sense of comfort and tranquility. Don't forget to look out to the entrance from there, because you'll be able to see the town of Kabukicho ─ a place full of love and lust.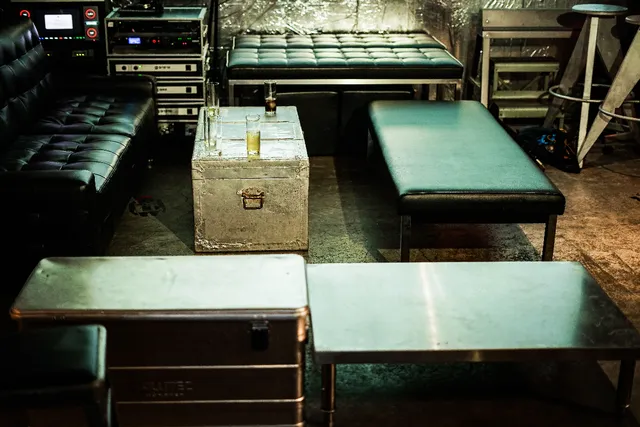 Location:2-28-14, Kabukichom, Shinjyuku-ku Tokyo.

Opening hours:11am ~ 5pm