Embrace the fat: Guide to eating wagyu and yakiniku BBQ in Japan
BBQ grilling is nothing new, especially if you've experienced Korean BBQ restaurants abroad. But yakiniku (translated literally as cooked meat) with its myriad of cuts and grades can be overwhelming, with terminology that's opaque even in Japanese. BBQ etiquette and consumption also differ if you're used to wolfing down slabs of all-you-can-eat short rib—like the contrast between downing cartons Two Buck Chuck from the market and sipping Pinot at a wine bar. Here are six tips to make you look like a grilling connoisseur.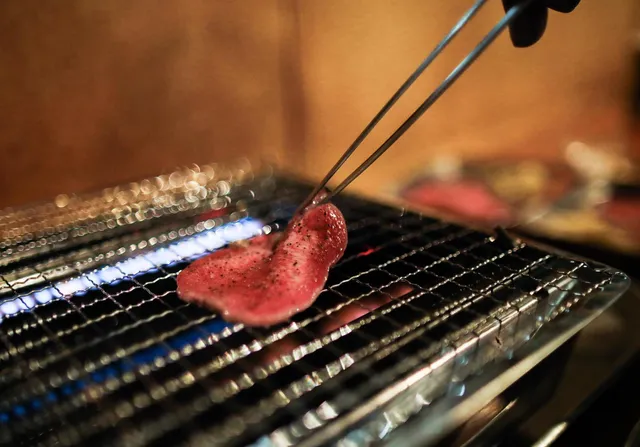 1. Cook what you'll immediately consume. Dump a whole plate of wagyu on the grill and some of your Japanese friends will die on the inside. The safe rule is cooking one or two pieces of meat at a time per person, a single piece if it's a thin cut. Cooking quality over quantity becomes important with premium, fattier grades of beef where it's 500+ yen per piece.
If it's a burnt crisp all the marbling gets burned off, transforming precious wagyu into a rubbery, tasteless brown lump. If you're wondering why the patrons do the hard labor, it's to honor personal preferences for meat doneness (I like mine a sanguine red). Think medium rare as the standard, medium for fattier cuts.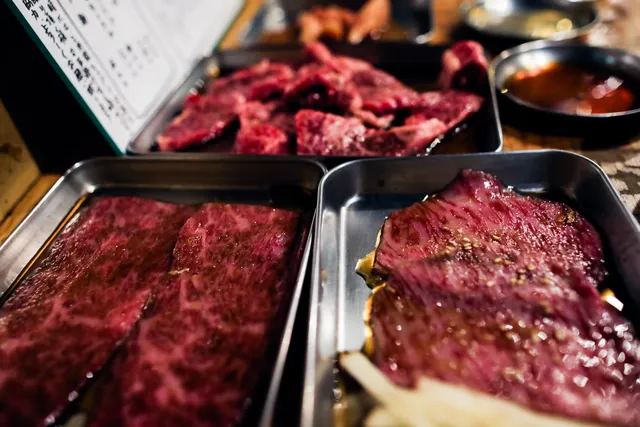 2. Fat is good. Paradoxically, whereas fatty ground beef is cheaper in a supermarket, the more intramuscular fat (shimofuri) in yakiniku beef the higher the quality. This is because the composition of the fat is different than beef in the U.S. fed with subsidized corn; Japanese black cattle are raised with no or minimal antibiotics and grass fed, resulting in up to 30 percent higher monounsaturated and Omega-3 fats, according to the Japanese Livestock Industry Association—the good stuff.
Discerning meat grades and Kobe beef: Japan is one of the stringent countries when it comes to grading beef, and decent yakiniku restaurants serve wagyu A4 or A5 beef. A5 is the highest, and as a general rule the higher grade will taste better, but ultimately follow your taste buds because grades don't tell the whole story.
The Japanese Meat Grading Association (JMGA) grades the Beef Marble Score from a scale of 3-12 (higher the better) based on several criteria including firmness, texture, and fat percentage; A4 is 5-7, A5 is 8-12. The score is chosen from the lowest score out of each category, so A4 can possibly have the fattiness, taste and firmness of A5, but lacking in color.
Nor should you necessarily consider Kobe beef the de-facto best, since they can also vary in grade from A4 to A5, though the melting point of the best Matsusaka beef is purportedly lower for a more buttery texture. If looking at non-wagyu, USA Prime tops out at low-end A4 with a score of 5, while Australian tops out at mid-grade A5 with a score of 9.
It's only a part of the equation since you also have to factor the taste of marinade, the type of grill, and prep/seasoning.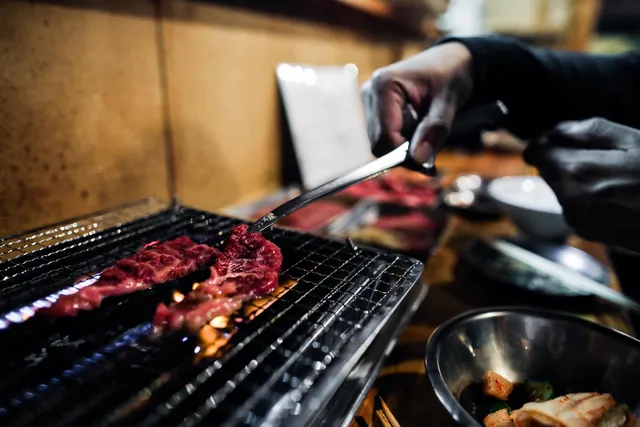 3. Chopsticks for cooking and sharing. Communal sharing of food is commonplace in Japan, and most don't care if you're using the same chopsticks for eating as cooking. Tongs are usually provided, but if not chopsticks will suffice, making sure that you're heating the end of the chopstick or using opposite ends if going between uncooked and cooked meats. Avoid passing the meat from chopstick to chopstick, a taboo evoking the passing of cremated bone remains.
4. Two flavor profiles: salt and marinated. Usually you'll be asked whether you want shio or tare—salted or marinated meat. It's personal preference, though something like tongue is usually salted, and non-offals marinated.
5. There is no right order for eating meats. Unlike sushi, where you go from lean to fattier fish, you can eat in whatever order you want with yakiniku. Start with horumon (offals), end with tongue, or just scarf down nothing but ribeye—it's up to you and your party.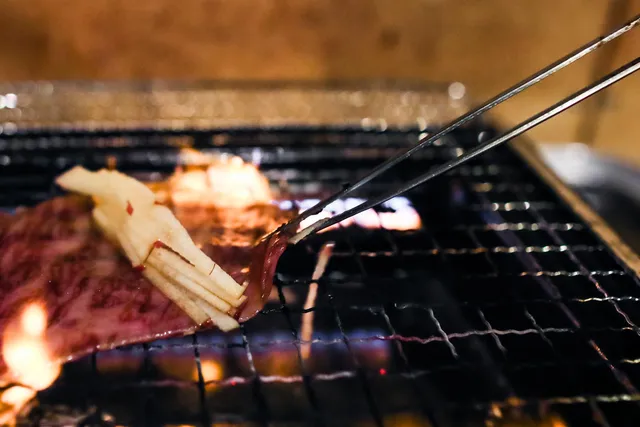 For fatty thin cuts the beef is ready to a warm, brownish red hue within seconds.
6. Changing the "net." The yakiniku grill usually has a removable grill called the ami (net), and the server can periodically swap it out, where you'll be asked to move the meat to the new grill. You can also request the grill swap (called ami-koukan), mainly so different marinades/flavors left over won't alter the taste of new meats.
Lastly, don't just go by price—even the Charles Shaws of the world have their place.