Kurosaki: the best Michelin-rated sushi in Shibuya you've never heard of
Ask what's the ultimate sushi in Japan and you'll largely get two different responses—Sukibayashi Jiro for those abroad, and Sushi Saito for Japanese living in Tokyo. Neither are easily accessible when vacationing in Japan with wait times exceeding three months.
But there's a still-obscure sushi restaurant nestled in a residential Shibuya neighborhood away from the metropolitan chaos—one not only Michelin rated, but also doesn't feel like you're trying to get a table at Dorsia. The name is Kurosaki, an up-and-coming restaurant run by 37-year old Kazuki Kurosaki; one that's already recognized in spite of having only recently been opened in 2015. Nor is it just about stars or accolades; Kurosaki sublimely embodies traditional Edomae sushi in a way that few restaurants do.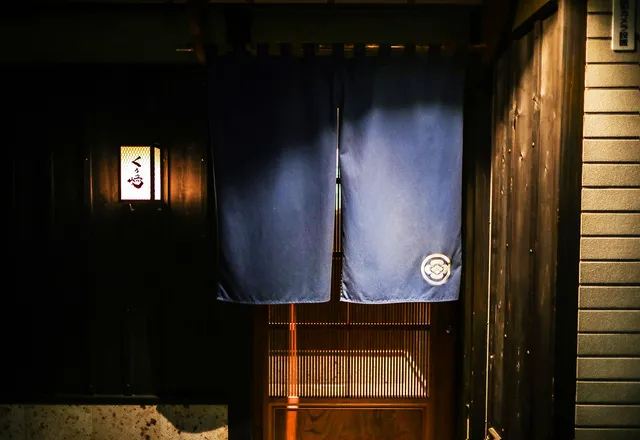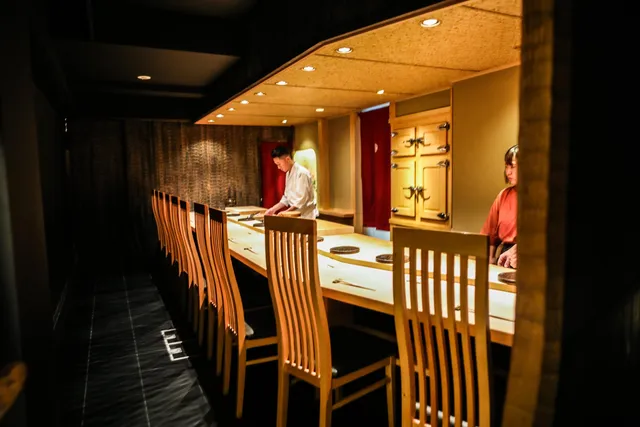 It comes down to the shari, or the sushi in the rice, oft overlooked for the freshness of the fish. From the 1800s to the 1940s, shari had been flavored with akazu (red vingegar) and a bit of salt, giving the rice a brown-tinge and a full-bodied umami flavor. That all changed post-war, when the shortage of able-bodied men for farming led to more rice imports, much of which had been contaminated with toxin-producing mold, giving the grain a yellow tint. Consumers associated colored rice with inferior rice imports, and sushi chefs started to use clear rice vinegar instead, adding sugar to compensate for the change in body and umami.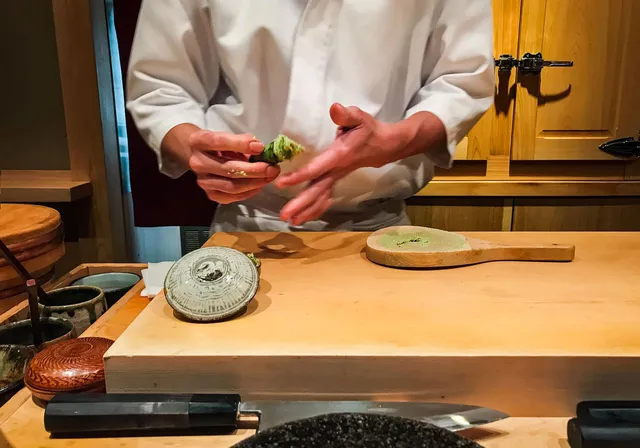 Owner and itamae Kurosaki hand-grating fresh wasabi on sharkskin.
Kurosaki's shari lacks the pungent kick of white vinegar, and in spite of its rich flavor doesn't overpower milder-tasting white fishes like Kinmedai (splendid alfonso). The beauty of Kurosaki's sushi is balance—regardless of dish, the flavors of the soy sauce, shari and fish harmoniously blend together.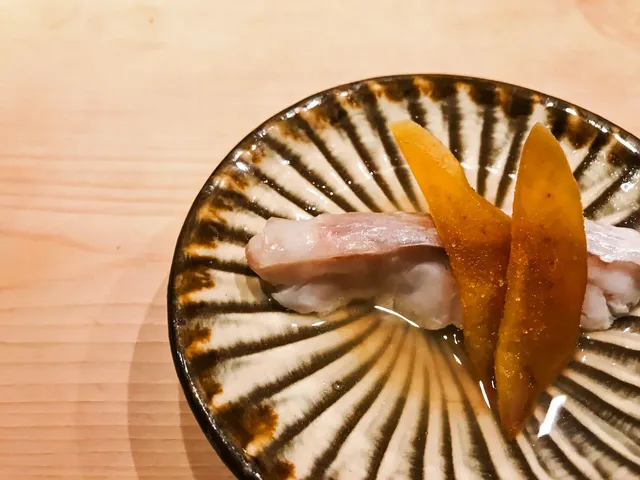 Voluminous multi-course meal includes not only nigiri, but small side plates and rolls.
Like most high-end sushi establishments Kurosaki is omakase only, meaning you have a course menu, selected based on the seasonality of fish as well as customer preferences. The menu can change a couple times a month, and after three months may be completely different. When most of the course is done, you can also order other items, including the popular toro-taku (fatty tuna and takuan pickles), and other fish on hand. But be warned: come with an empty stomach, because you'll likely be stuffed by the end of the epic two-hour experience.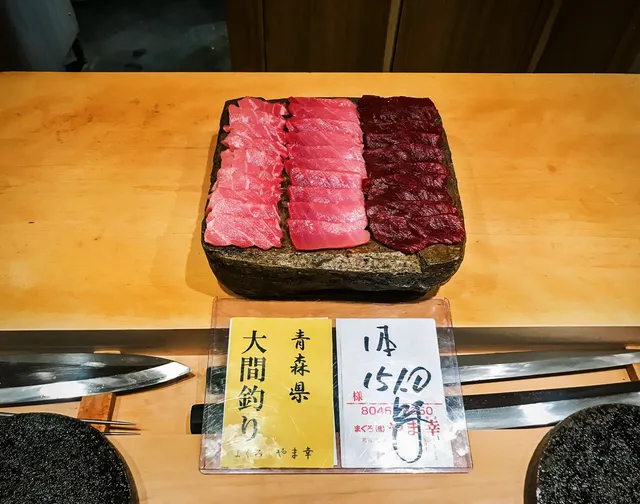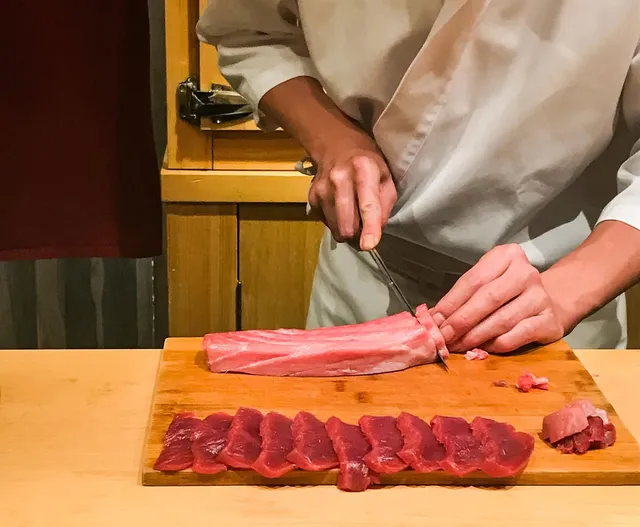 The cutting and serving of different bluefin tuna--the centerpiece of the resplendent meal.
Dishes consist of a mix of appetizer-like dishes including shirako (cod sperm—er, milt), nigiri sushi and the occasional hand roll. Flavors focus on bringing out the essence of the ingredient; the Botan shrimp I ate was delicately boiled, then covered with a sauce created from its head crushed, plus a sprinkling of its eggs.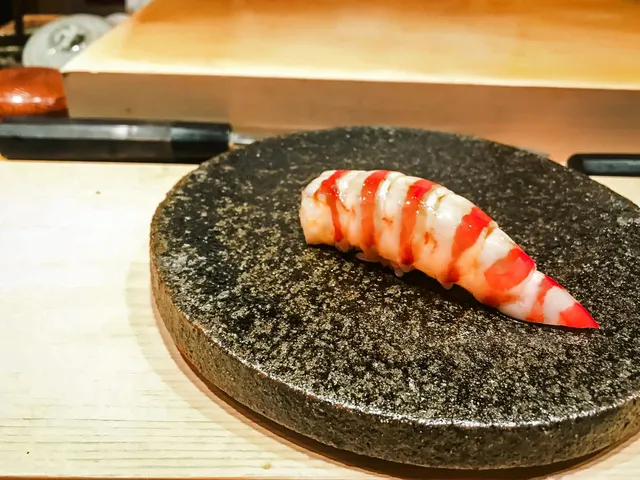 Vividly colored Kuruma-ebi (tiger prawn) nigiri.
Every element is scrutinized by Kazuki Kurosaki, who makes the sushi himself if you sit at the counter (private rooms have a different itamae chef). Five-year old Mazuma wasabi gets grated on the spot with sharkskin, imparting a glutinous texture to the earthly spiciness. Two different soy sauces can be brushed on the sushi depending on the flavor profile, and your lips only touch the most exquisite-quality fish as you savor the warm, al dente-cooked rice. Even the seaweed for the rolls pop with a robust, toasty flavor.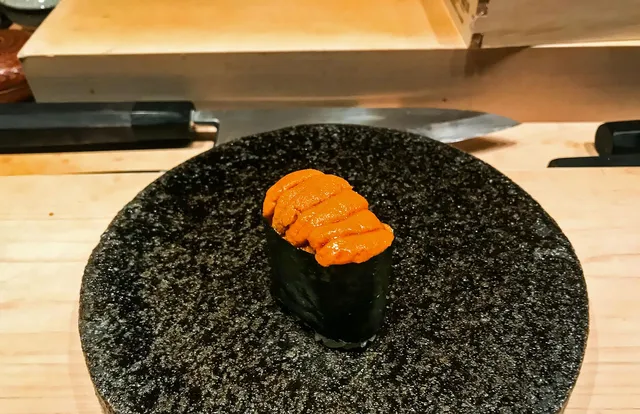 Kurosaki makes you rethink how sushi should taste, or even what ingredients you dislike. Sumi-ika squid has never been at the top of my list due to its texture, which I liken to melted jujyfruits, yet was one of my highlights, as was Kawahagi filefish, made with fois covered a delectable piece of sashimi.
And who can forget the holy trinity of nigiri—bluefin akami maguro, chu-toro and o-toro, served in the latter half of the feast. After cutting the slices of each respective cut, he then places them on a stone slab, showing its origin and the fish's weight as though presenting a box of white truffles. Connoisseurs value specific areas, like bluefin caught in Ohma, which are prized for their clean yet fatty flavor. Starting with the fattiest o-toro, I then scarfed down akami, the leanest but most dense in taste, finishing with my favorite chu-toro—medium fatty tuna with a delightful balance of a buttery texture and ravishing taste.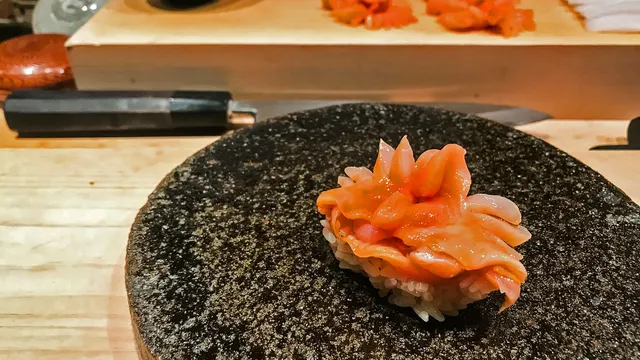 For "dessert" he made tamagoyaki, a sweet rolled egg omelette that takes more than six hours to cook, and has a smooth, almost gelatinous texture.
What makes Kurosaki so enjoyable isn't just the phenomenal cuisine, but the relaxed dining atmosphere. You're not rushed out the door like some other Edomae sushi joints, and the sushi chef stands level to you, not elevated, making the setting more intimate, relatable. The cost of 27,000 yen a head is in line with other top-tier sushi, but includes sake/wine, and is a substantial meal.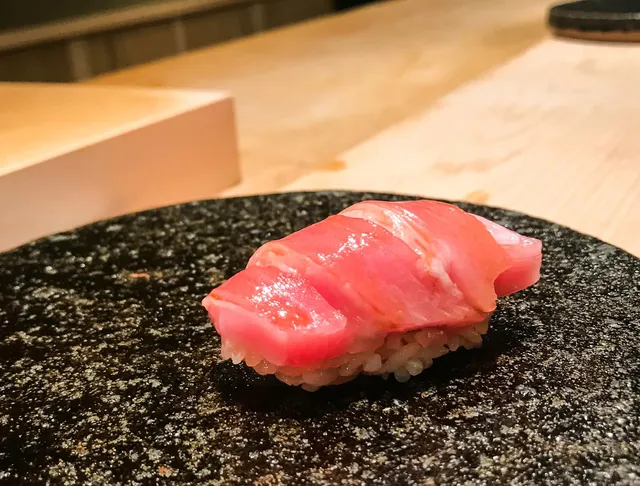 Plus, you can actually get a reservation online through Pocket Concierge, often within a week or even a day's notice.
But that may change—with such a delightful dining experience, Kurosaki may not be an unknown for long.
Kurosaki

Address: 1-5-9 Shibuya, Shibuya-ku, Tokyo 150-0002

Phone: 03-6427-7189 (reservations only)

Hours: 6pm - 12am (M - Sat); 4:45pm - 12am (Sun)