Standing bar with 135-year history hidden in plain sight in Shibuya
Even by Tokyo standards Shibuya is a city quick to move on, whether in continually rotating fast-fashion, or even with larger businesses that get lots of pedestrian exposure, like the shuttering of Book1st. It's rare then to see old mom-and-pop shops thrive near the station, yet one does, hidden from plain sight and seemingly immune to the rapidfire changes that the city sees.
Stepping into Fujiya Honten feels like you're in a Japanese version of an old familial British pub, weathered but brimming with local character and charm. Plus, it's a bargain.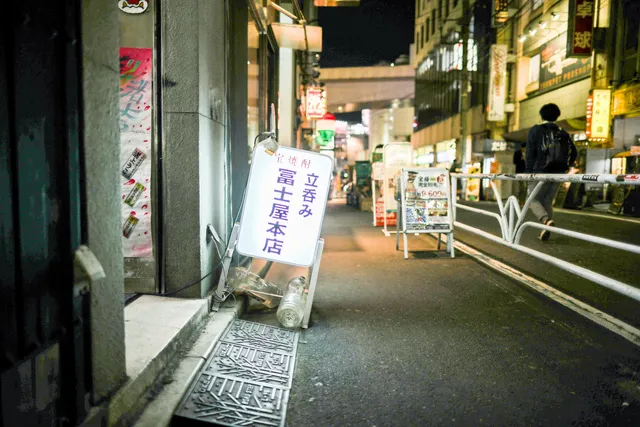 While getting TV exposure in Japan, it's not a hotbed for tourists, and the sketch-looking entrance, devoid of any English signage (with a TV antenna taped on the flourscent sign) and leading down into an ominous basement, shows why.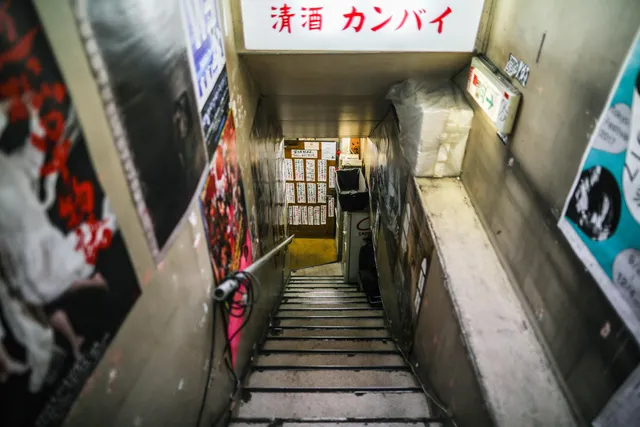 Once inside it opens up to a surprisingly large, rectangular standing izakaya bar, full of people unwinding from work. With old CRT TVs in the corner, a tired wooden counter, and menus written in chalk and scrawled on slips of paper on the walls, it's an analog experience from decades past that starkly contrasts with the high-tech jungle above ground.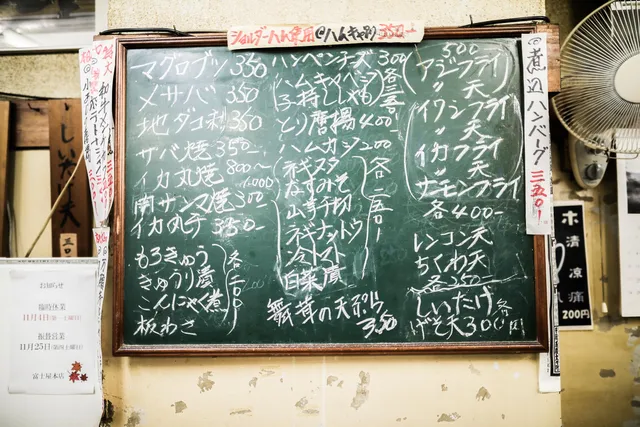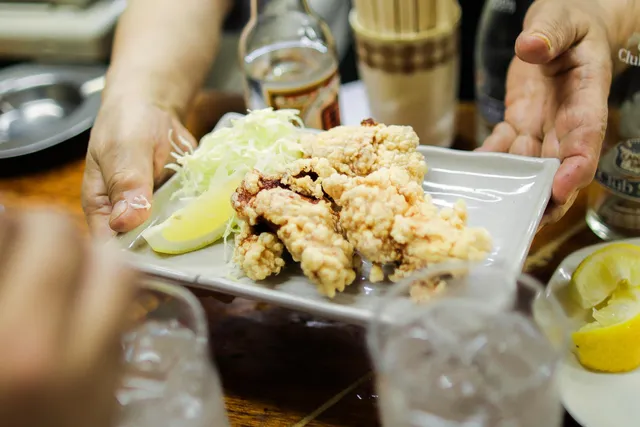 There's also an unspoken etiquette unique to Fujiya Honten, known to frequent patrons. That includes:
1. Order little by little. The place gets jammed with customers as the night soldiers on, and as etiquette the cooks only want you to order a couple dishes at a time so your plates don't encroach on others' spaces. Try to run down a long list of tapas plates and you'll get cut off with the server saying "that's enough."
2. Pay as you go. Unlike most bars where you have a running bill that you pay at the end, the custom here is to leave your budget on the table (usually 2000 yen or less), and as the night wears on the servers subtract the money—ensuring you not only stay within budget, but also to encourage people stay for even a quick drink. Don't bother trying to pay with plastic—it's cash only.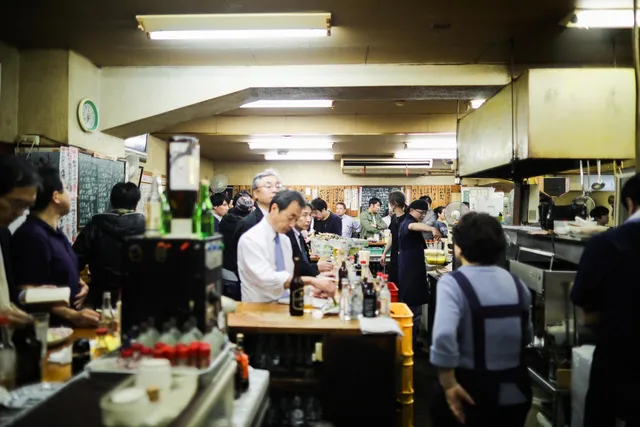 3. Stand where you want, but newcomers may prefer the back. While you're free to grab a spot that's open, if it's your first time you'll want to get a spot in the back or the side with the chalk board, since there's no menu to see anywhere else. That's assuming you can read the Japanese. Otherwise bring a Japanese friend, or make mental note of some of the popular orders.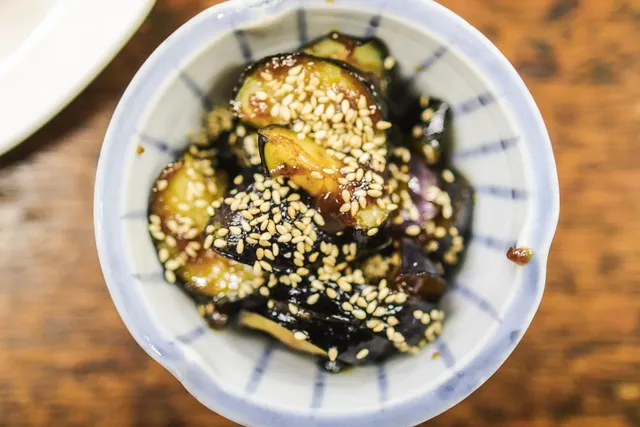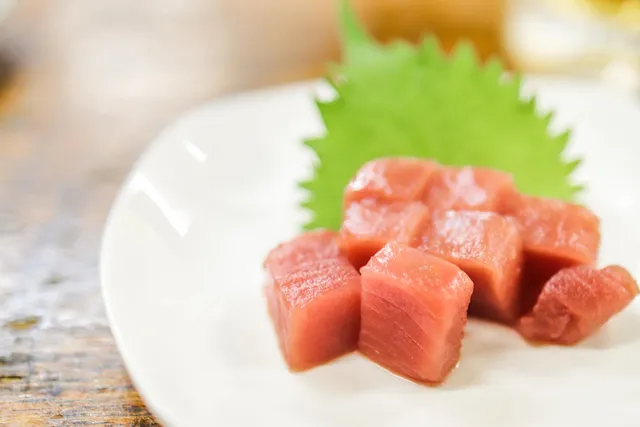 Dishes range from 200 to 400 yen, an unusually low price-point for the centrality of the izakaya—perks of being in business for over 135 years (that's the Meiji era for history junkies) and cutting on costs by owning the building.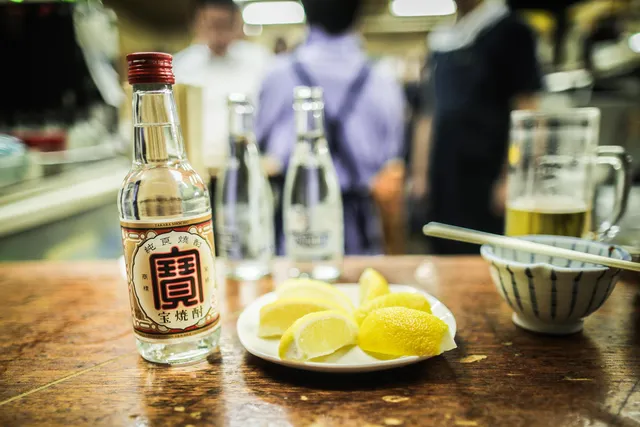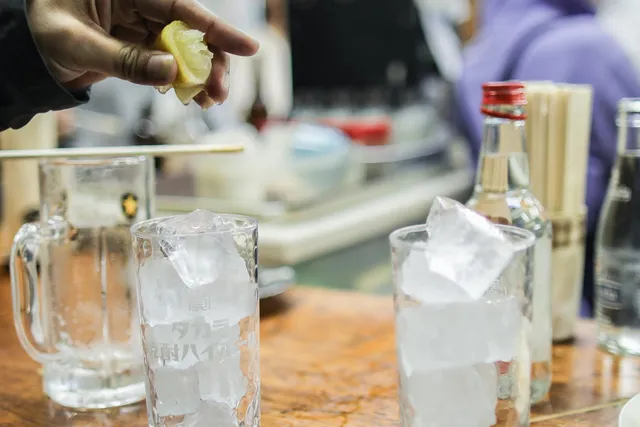 For drinks the most popular option to get tipsy is the lemon sour set, consisting of a bottle Shochu alcohol, soda, lemons and a mug with ice. Characteristic of Fujiya Honten is that you do the mixing yourself, enabling you to make the mixed drink as strong or weak as you like, and it ends up being cheaper since they're handing you the whole bottle of Takara shochu. Its close cousin, the Hoppy set, also costs 800 yen and unless you want to stumble home it's best to add more soda or share with friends to blunt the impact.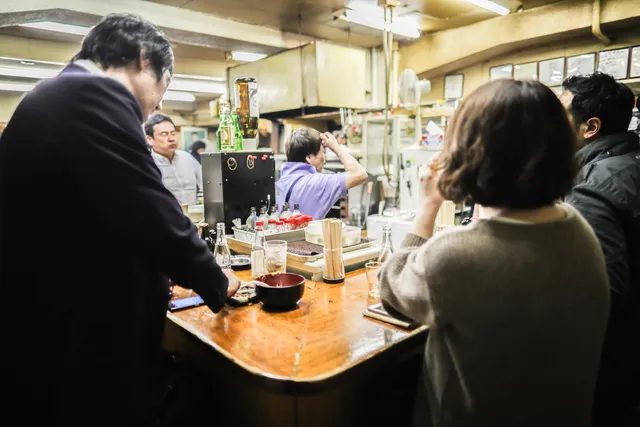 The copious menu selection means there's something for everyone including vegetarians and vegans. Popular entries include eggplant-miso, a savory accompaniment to beer with hints of sesame and the miso bringing out the natural umami of the eggplant; ham cutlet, which is one of the cheaper options at 200 yen, and stewed hamburg steak, one of the more hearty entries at 350 yen. Seafood lovers wanting something fresh will want to try the shimesaba, or raw pickled mackerel or maguro sashimi, both costing 350 yen.
Granted, the taste is more like home-cooking than exquisite cuisine, but that's the beauty of Fujiya Honten; it's a space of intimacy and warmth seldom experienced in Tokyo, let alone Shibuya.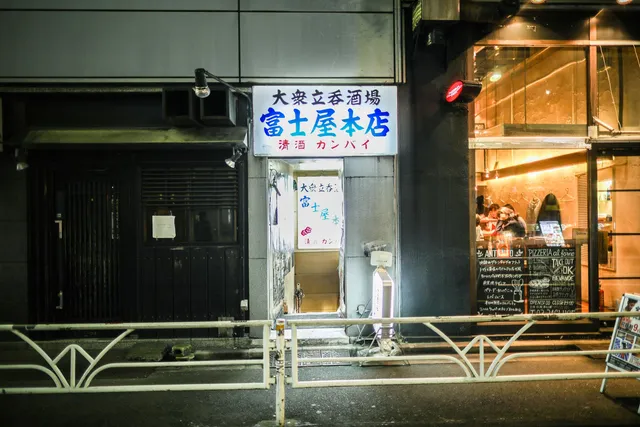 Fujiya Honten

Address: 2-2 Sakuragaokacho, Shibuya-ku, Tokyo 150-0031

Tel: 03-3461-2128 (No reservations)

Hours: 5pm - M-F 9:30pm, Sat 5pm-8:30pm (closed Sunday, holidays and fourth Saturday of the month)

Budget: ¥ (From ¥ - ¥¥¥¥)