Kurousagi's goya chanpuru challenges Okinawan fast food culture
Translation by Satsuki Uno
Following the Second World War, Western-influence into Okinawan food is undeniable. According to the USDA Foreign Agricultural Service, "U.S food products have penetrated deeply into the local diet," and Japanese census data from 2014 shows Okinawa has more hamburger restaurants per capita than any other prefecture, at over 9 per 100,000 residents.
With the prevalence of fast food, Okinawan cuisine is staging a comeback by emphasizing a leaner diet promoting the long life expectancy that has long characterized the region. One such restaurant at the forefront is Kurousagi.
From past to future
"To change Okinawan cuisine"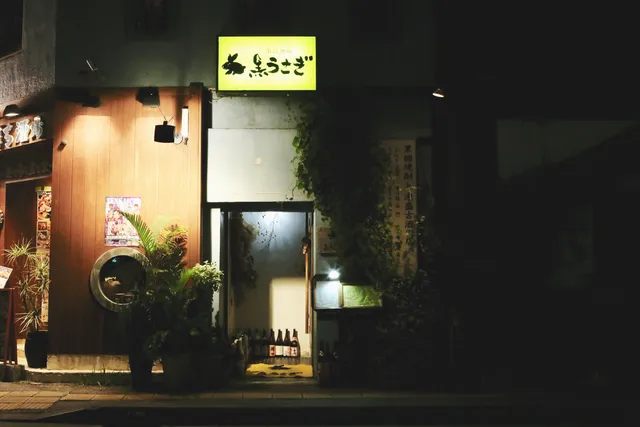 There's a Okinawan term "nuchigusui," which translates as "medicine of life." It means the food you eat becomes part of you and your well-being.
Yet there's a discrepency--can the prevalent fatty and sodium-rich junk food be called Okinawan cuisine? Isn't chanpuru, a traditional Okinawan staple of stir fry, a contradiction when it contains Spam, which widely came into use post-war? To that point, 90 percent of Japan's Spam consumption comes from Okinawa, a significant figure considering the prefecture comprises only 1.1 percent of the nation's population.
Okinawa used to be known for people's longevity and health, but now faces rising obesity and associated health complications. Once ranked number one for life expectancy, Okinawa now ranks 30th for men according to 2010 Ministry of Health figures--below the national average.
"It is really sad to know that, and it should be the opposite. Okinawan food culture is starting to become empty. That's why we need to destroy it first. I think we can bring [the traditional cuisine] back now, and provide the essence of delicious, Okinawan cuisine and restore a new Okinawan food culture. This is our philosophy," said Tsuyoshi Terukina, owner of the Kurousagi restaurant.
The name comes from an endangered species of rabbit deemed a national treasure, specific to the Amami Islands, where his wife is from. North of Okinawa, the Amami Islands were nonetheless within the Ryukyu Kingdom's sphere of cultural influence.
"To go back to the past Ryukyu culture, and update it for a future Okinawan food culture--that's why we named it Kurousagi."
Red pork oil seeps into goya chanpuru layers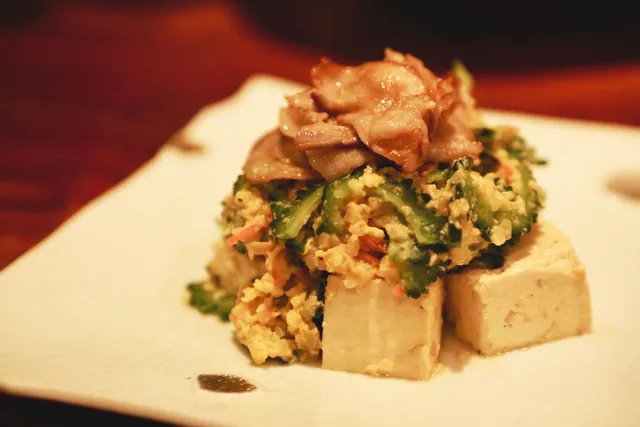 First, I try Kurousagi's famous goya chanpuru.
Looking from the side, you can see three layers: there is beni-ton (translated as red pork); goya, egg, and carrots; and then the Okinawan tofu at the base. This is not merely for plating or presentation, but is layered to have the best taste.
Not using any cooking oil, the dish gets flavored from the pork fat seeping to the bottom tofu, creating a surprisingly gentle taste. If it were kurobuta pork (a prized pork rich in fat) it would be too oily, hence the use of locally grown beniton, which is sweeter and more refined to provide a balanced yet hearty flavor.
"I believe real Okinawa's goya chanpuru should be cooked with the fat from the pork. Notice that if you take a sip of water after eating the dish, there isn't a bad aftertaste. I can't have the tourists having Okinawan food and leaving with a bad, bloated feeling. That is why I want to change the Okinawan food culture."
Lehman Brothers crisis and chicken rice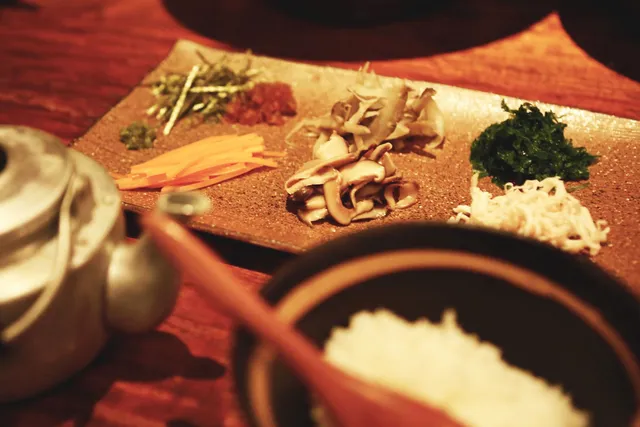 So why would the restaurant focus on authenticity and quality? According to Terukina-san, it started with the Lehman crisis of 2008.
"It had a huge influence with the Japanese economy, and for the food industry it was especially a turning point. I think the industry was hurt by trying to go the budget-price route. But on the other hand, it also shows that there's hope in Japan, that authentic cuisine can still survive, as long as we are honest. There will be people who can relate and connect with that honesty. Japanese people aren't stupid, and they know what's real. If our generation can't figure out how to make it work, then the emerging generation won't figure out how to evolve the industry."
"But if I keep talking like this, maybe it'll scare the young people away (laughs)."
While I was listening to this interesting talk, he brought out the last dish, keihan, translated as chicken rice. It's more Amami Island's local cuisine than Okinawa's, and takes more than 20 hours to prepare. With all the sweetness and umami of vegetables and chicken condensed into the small bowl, I started asking myself, "can my tongue take all of this deliciousness?"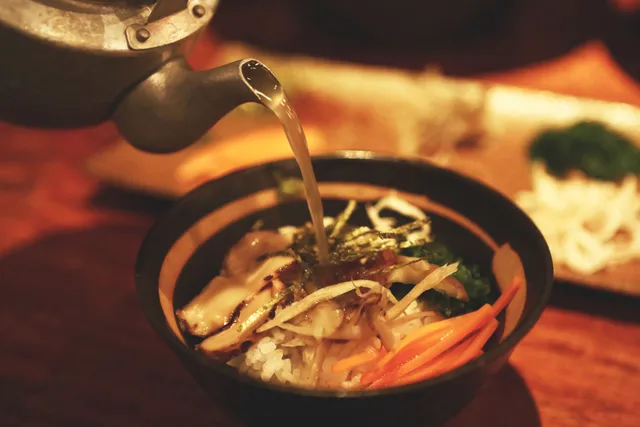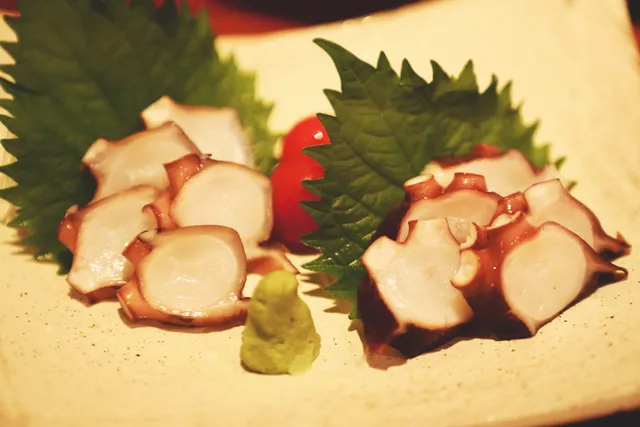 For a different taste and texture, there's Shima-dako from Uchina sea and Nagasaki's Madako.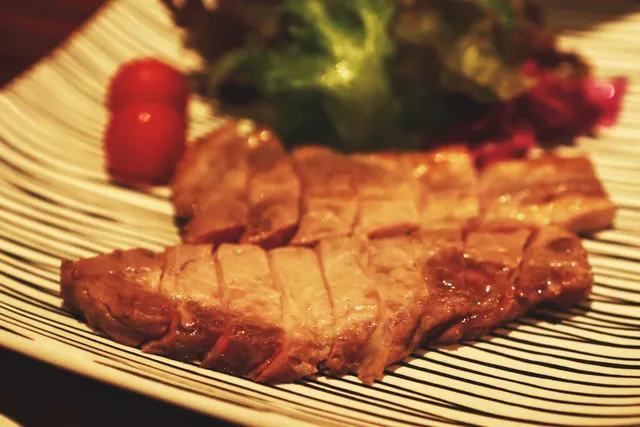 An exquisite Kurobuta Steak, seasoned only with salt.
Kurousagi doesn't have a website or social media accounts to promote itself. My impression differed from the online reviews I've read, which tended to focus on cost-performance; while the price may be pushing it, you sense the reason behind it.
There's reason why something is cheap or spendy. Japanese people tend to take quality for granted, without stopping to think what that cost actually means.
Fast food, all-you-can-eat, price-matching--my hope is that's not all that Okinawa will become.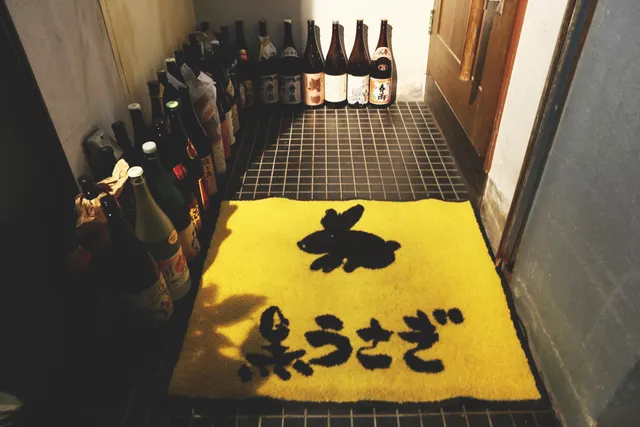 Kurousagi
Location: 2F 3-8-3 Kumoji Naha-shi, Okinawa prefecture
TEL: 098-864-2887
Open: 17:30 to 0:30
Closed: Open everyday