Okinawan Awamori liquor harkens back to forgotten Ryukyu glory
Translation by Satsuki Uno
Awamori Warehouse is a membership-based bar in Naha city exclusively serving Awamori, a unique Okinawan distilled liquor with a 600-year history. Behind bar owner Kouji Higa are 750 types of Awamori, which he carefully selects after getting to know each customer.
"Is this your first bar tonight? Is this before a meal? Or, during, or after?"
It's a care and passion towards Awamori unthinkable decades past, in what was thought of as a cheap bar drink to get a quick buzz. Like an Okinawan forty, or Long Island Iced Tea.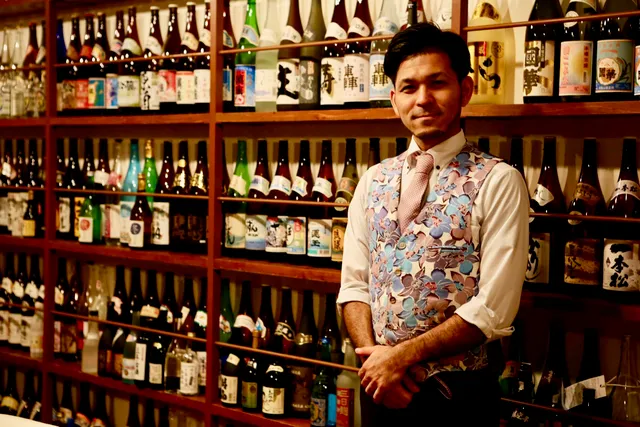 According to Higa, the character of each Awamori glass should match the customer. While Awamori hasn't caught on in mainland Japan post-war, it was once a drink of prestige, fit for kings and diplomats.
"I believe it's important to choose according to different customers. Although there are many different types [of Awamori], each is unique. In the past, I brought out the taste of a customer's first love."
Awamori's negative stigma
Higa-san's each word is full of love--no, respect--towards Awamori.
"The reactions vary, but what I hear often is it's what your old man drinks, or it's too stiff and needs to be watered down. To be honest, I used to think that way too, when I was young and had to pick up drunken dad a lot (laughs). But now, I feel it's my duty to tell world the greatness of Awamori."
He explains his fascination of Awamori.
"The beauty of Awamori lies in drinking it straight. It might be intimidating since it's high proof, but don't think that's only for those who are strong to alcohol. Think of it an an encounter. Awamori has a 600-year history, and people have been drinking 100 to 200 year-old vintage sake out of small winecups for long time."
200 years is astonishing--but unfortunately the 100 to 200-year vintages were purportedly all destroyed or lost during the Second World War. It makes me wonder what it tasted like, but then Higa-san started to pour my first glass.
"How about giving this a try to quench your thirst?"
Awamori Highball and Awamori sangria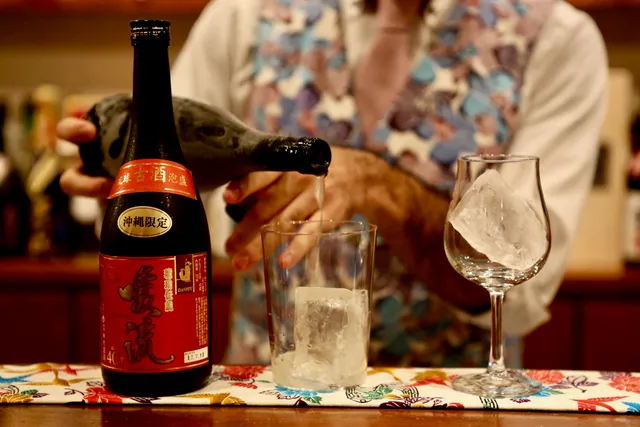 Higa-san took out a bottle named Danryu, by Kamimura brewery. The barrel-aging gives it a unique taste, and it's diluted with Highball, a popular, weak mix of tonic water and whiskey.
"According to the brewery it's called 'Dan-ball' because it's mixing Danryu and High-ball."
It's really refreshing--and come to think of it, Awamori and whiskey are both made as spirits, so it makes sense that mixing it with Highball would work.
Then, Higa-san makes the cocktail more interesting.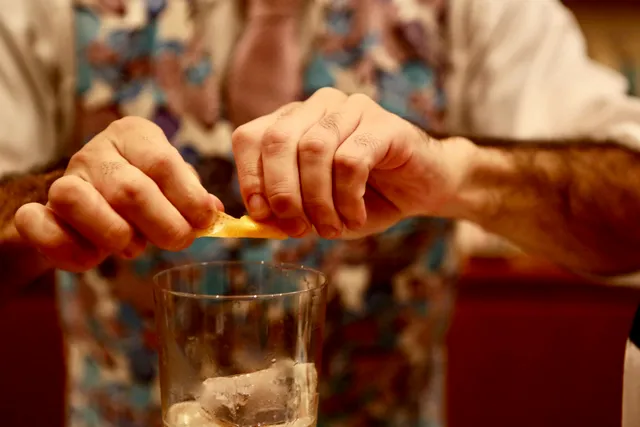 "Whiskey has more of a wooden-barrel taste, but for Awamori there's more. You can add a citrus peel to color the taste. Try it with a squeeze of a grapefruit peel."
As he put the tart juices of the grapefruit peel in to the Dan-ball, it made the drink floral and refreshing.
Then I had Awamori sangria.
"We all know that sangria is made from wine, but it actually goes well with Awamori. Awamori is made all-year-round, but wouldn't be nice to mix it with seasonal fruits?"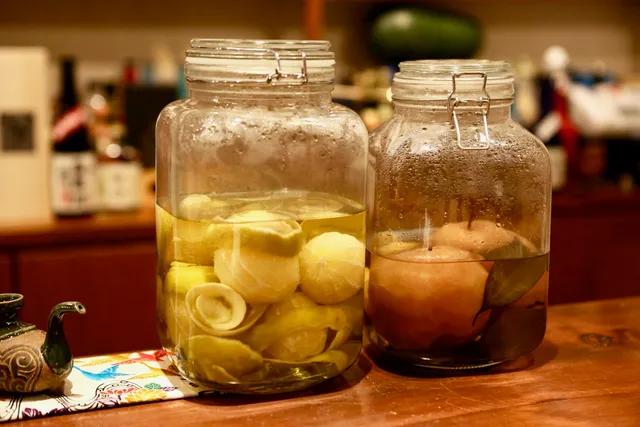 Higa-san continues.
"Awamori sangria isn't anything new. Awamori has traditionally been used as an wine for medicinal purposes, perhaps with a habu snake, garlic or herbs. And maybe it's now the time to call those as sangria."
At this point, I was really into Awamori. But I still haven't tried it straight, to experience the essence of the drink.
Drinking Awamori straight is full of both misgivings and appeal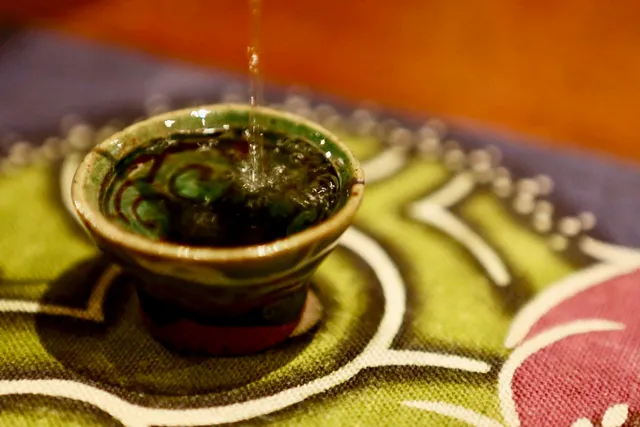 "Do you know the real meaning of Awamori? Take a look at the wine cup. It is to serve (moru) with bubbles (awa). And the bubble's size and smoothness changes accordingly to the proof. Our ancestors were pursuing higher and higher proof. Why? Because it's not an alcohol that you drink right away. It took 100 to 200 years to create and when it's low in alcohol level, it goes bad."
"There isn't anything like this anywhere in the world. Ryukyu was a mysterious country. Without any machinery or tech to hermetically seal the containers, it's a wonder how they made a liquor that's stable for 100-plus years. So they knew that the bubbles represented its proof. And it became a rich alcohol."
"But that was before the Second World War."
"After the war, Awamori's history became a cheaper, more unrefined drink. It used to be alcohol without any compromise, but became the alcohol to get drunk. But that change was inevitable. Breweries couldn't commit the time to age the sake. Because it was a tough time, where people were more focused on getting drunk in order to forget the hardships, and enjoy the moment with friends. That is why people started to mix with water, coffee or shequasar (a popular citrus in Okinawa)."
"And it's only been 70 years after the war. But it had 500 years of history before that."
It was never meant to be cheap, or be guzzled mixed with water.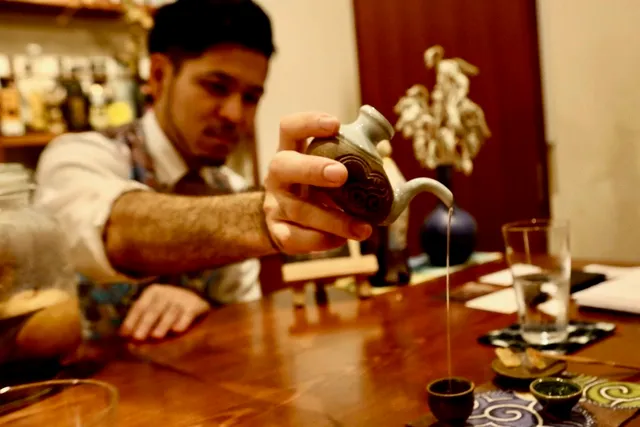 "The main ingredient is rice, so it used to be used to pay taxes and was very valuable. Making that in to alcohol, taking so many years, it was something special. Even ten to 20 years were not enough, it was still too young. They used to make it for 50, 100, and even 200 years. The cost performance wasn't efficient so it was only the few, high-class people who were able to have it. So the making of Aomori can't be compromised. Also, there are historical records showing they brought it to Edo for valuable trade as well. It was an influential, national liquor."
"So please enjoy this Awamori with Togatsuke, and feel like royalty."
Enjoying dessert fit for a king
I was having Togatsuke, what Ryukyu kings ate for dessert, with Izena Brewery's Kanamaru, a 70-proof drink, and taking tiny sips at a time. Kanamaru is the name of King Shoen, one of the kings of the Ryukyu Kingdom. I felt like I traveled back in time.
"Togatsuke is made from togan (winter melon) and sugar, making it naturally sweet. I think it's incredible and can't be made by anyone else. It's a precious taste, and I respect Jabana Kippan being the only shop to preserve this tradition for six generations."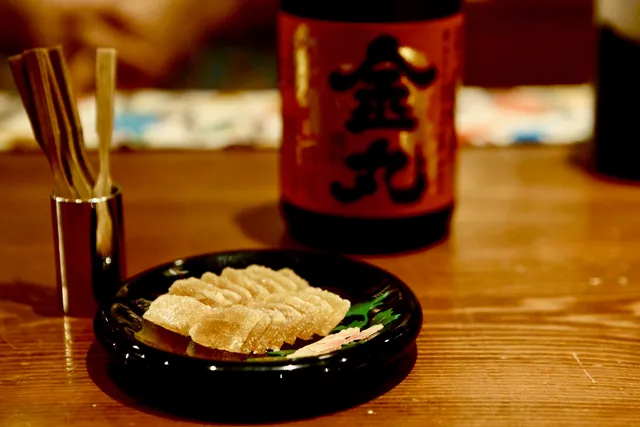 The next bottle is Omoro by Zuisen brewery, 78 proof and brewed for 18 years. Omoro means "omou" (to think) in Okinawa dialect. The higher the proof, the more it also goes well with Togatsuke. It softens the spiciness of alcohol, and harmonizes to its sweetness as well.
"18 years is also a good label. Because it hasn't been sold for that long a time. It is only made by traditional breweries, and you will be able to taste the jug [it's stored in]. By the way, it becomes more aromatic after it is served."
Really?
"The aroma is spread with air and you can still enjoy it for another 30 minutes. In contrast, the drinks I served first, like sangria or beer are types of alcohol that degrade in taste after some time, and that is why you need to drink them faster. But for Awamori straight, it is served to be enjoyed sip by sip, slowly."
Having Awamori means having peace
I became engrossed talking to Higa-san--about Okinawa's Ryukyu history, how Awamori is made, yeast and black yeast, its culture and shochu, and chocolate and how it's roasted...he enthralled me in every topic.
"So, do you now see Awamori differently?"
I could only agree, seeing how Awamori survived the culture that got dismantled 70 years ago.
"History, culture, performance and taste. Awamori has a potential that stands in equal footing to other drinks of the world. But it comes down to how you spread the message, and revive its popularity and prestige to the world."
I didn't even realize at first, but as Higa-san was talking I was casually taking sips of the 78-proof Awamori straight.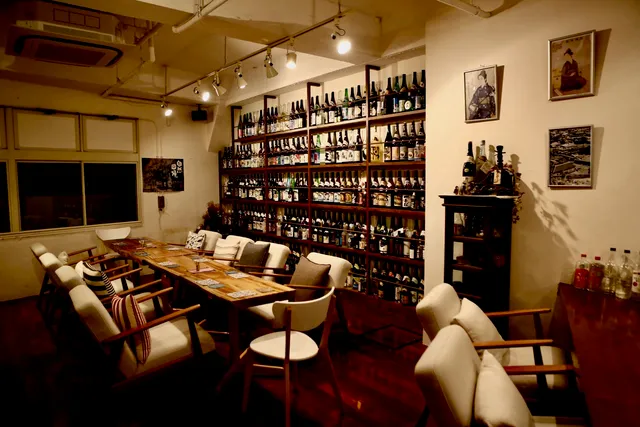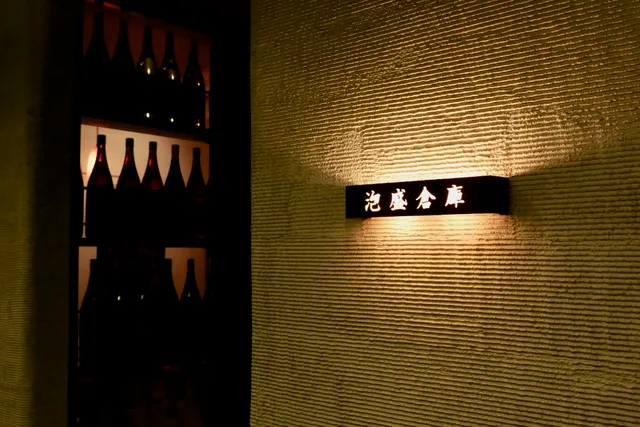 Awamori Souko
Location: 4F 2-8-14 Kume Naha-shi, Okinawa prefecture
Tel: 098-869-0808
Hours: 18:00 to 24:00; closed Sundays

Membership:
Registration fee: 20,000 yen (No annual fee)
Charge: 2,000 yen
Group entrance is allowed with one person being a member. A trial experience is also available, with reservation in advance.