Kinichi Soba takes Okinawa soba to the next level with "raw noodles"
Translation by Satsuki Uno
Ramen, udon, soba are noodle staples for Japanese cuisine, but Okinawa soba has a unique historical background and flavor all its own. Using thicker buckwheat noodles that are almost udon-like, Okinawa soba comes with a meaty broth, usually accompanied by cut slices of spare-rib pork.
But what Okinawa soba restaurant do I go to while I'm on assignment? There are places that emphasize soup flavor, or the savory punch of the pork, or places with a traditional aesthetic vibe. But when I visited Kinchichi Soba in Onna, I experienced the next evolution of Okinawa soba, and it comes down to the fresh, organic taste of the noodles.
They call it nama-men, or "raw noodles."
Not foreign, but domestically grown wheat
Not pre-boiled, but raw
It's not read as "kin-tsuki," but "kin-chichi," in contrast to the traditional kanji reading.
There are three chain Kinchichi restaurant in Yomitan city, Onna city, and in Naha city, and each serve Okinawa soba differently. The Yomitan restaurant uses the 'Yachimun' china bowls and explores Okinawa soba like an artistic concept. The Naha city restaurant along Kokusai Street incorporates traditional dining that has been loved for over 57 years at the Mutsumi Cafeteria, and opened in March of 2017.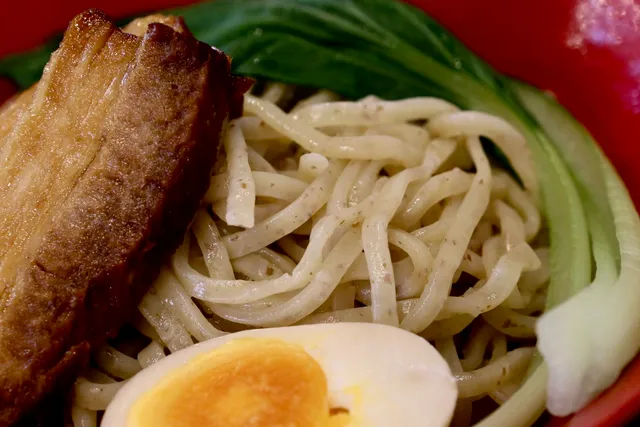 Distinct to the other two, the Onna city chain has the tsuke-soba style or dipping noodle, and has its own flour mill, using 100 percent Okinawa-produced flour.
At Kin-ichi there are two types of dipping soup. The standard version uses a pork-bone and chicken broth extensively boiled down. The second is a red dipping soup, a miso base with pepper blended with the unique broth. It's recommended for those who love a spicy kick.
Ordering the latter, I interviewed Takiro Kinjo-san, the founder and representative of Kinchichi Noodle, who talked about the origins of their noodle concept.
"It's been said that Okinawa is not suited to grow wheat due to its tropic weather," said Kinjo, "Yet records show that Okinawa has produced wheat even before the war."
But following the shortage of wheat during the Second World War, the area saw an influx of exported wheat.
"Okinawa soba as a culture started to spread after war. At that time, flour was supplied from the American army, but was since there were no refrigeration system, people consumed boiled noodle because it lasted longer. Many of the current Okinawa soba uses wheat from North America, but by using the domestic, or prefecturally produced wheat, I wanted to increase our self-sustainability."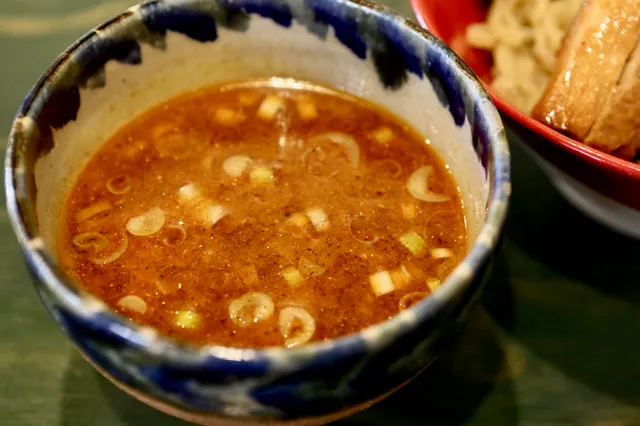 That sustainability extends not only to the farming, but also noodle production.
"We consigned with Okinawa Prefectural Wheat Union (15 farmhouses in Okinawa) and mill our own flour. Flour is organically grown from our stone miller. Recently, there are about 20 restaurants that uses raw noodles, and when Kinchichi started using raw noodles, there were only three. At that time, people used boiled noodles but I wanted more people to experience the inherent glutinous texture and body within the flour."
"Raw noodles" point to the fresh production process; whereas mass-produced noodles typically are made, boiled, then shipped and again reboiled prior to serving, by making the noodles in-house Kin-ichi is able to remove an extra step of the boiling, thus bringing out the flavor and texture of the wheat in the noodles.
"Dipping-style soba better transmits the flavor of noodle, and raw noodles emphasize the flavor of the organic flour itself," said Kinjo.
While the concept makes sense, it's an approach that only recently gained traction, what some may call unorthodox.
"There's no doubt that exported wheat and pre-boiled noodles sustained Okinawan food culture. And instead of usurping that past, I wanted to absorb that heritage and transform it into a new culture of Okinawa soba."
As an added plus the garnishes are also domestically produced, like the eggs and vegetables.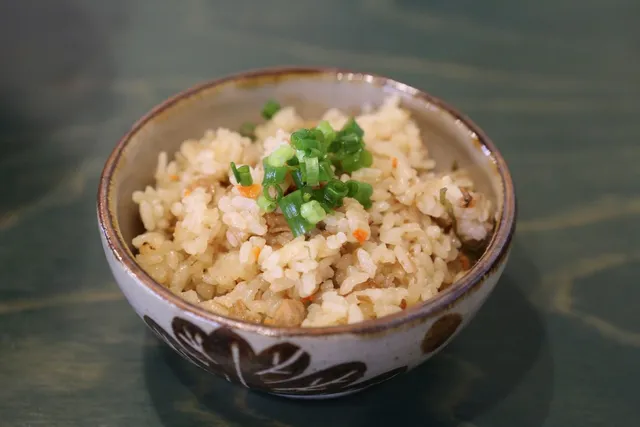 The tsuke-soba set also came with an aromatic and gently flavored rice, called Yanbaru chicken jushí (200 yen). Jushí is an Okinawan style of rice, cooked with a brothy seasoning.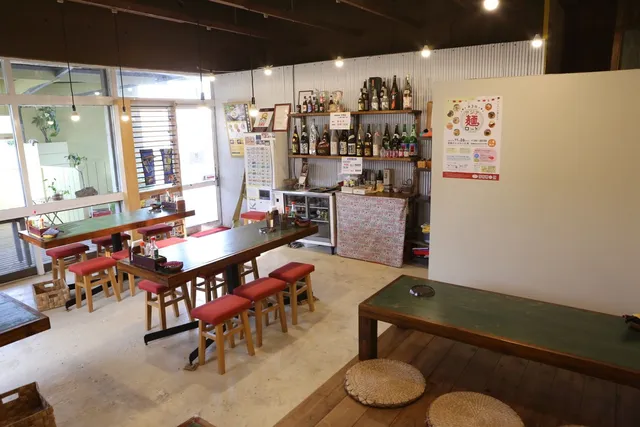 As I was listening to Kinjo-san's talk, I relished the mochi-mochi texture of noodles, and slurped the soba till there was nothing left. At Kini-ichi, local sustainability is not only a talking point, but a tasty progression of a regional icon. Okinawa soba 2.0, if you will.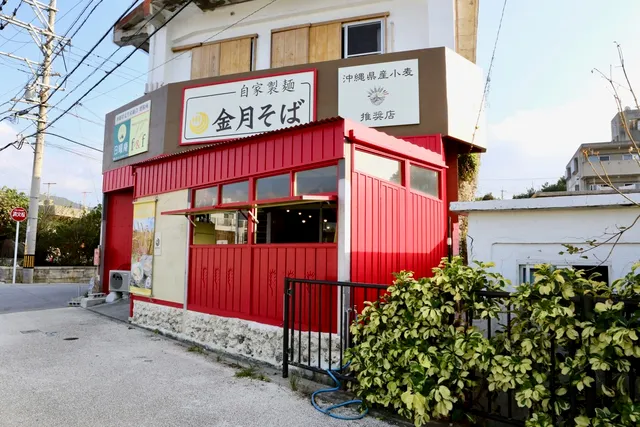 Kinchichi Soba (Onna restaurant)
Location: 8-3 Nakama Onna-son Okinawa prefecture
TEL: 098-967-8492
Open: 11:00 to 16:00
Closed: Every Monday